Oh my goodness, I was looking through the blog recently and hadn't realized that I never shared about my two daughter's weddings. How could I forget that? Seriously, post-wedding stupor is real and I think I was just barely hanging on for months after each one. But I am back to normal-ish now and I want to share the wedding bliss.
I'm going to start with the most recent since it's more fresh in my mind. I did a lot of personalized work on each of their weddings, trying to make it the dream wedding for their individual styles. Even though I wanted them to have exactly their vision, I still did what I do, which is make it cute to the last detail. I can't help it, cute details flow through my blood. If I ever have surgery I'm sure the doctor will open me up and find craft scissors and a hot glue gun in there somewhere.
Our youngest daughter, Patience, got married in November of 2018. That sounds like a long time ago when I say it out loud, but it feels like yesterday. Of course, since they've moved halfway across the country and had a baby already, I am sure it feels like forever to them. But as the mom just at home missing her it seems like a blink.
They wanted to get married at our house. Yep, that's right. Just a few months after moving back into the house after our fire we were hosting a wedding here. They a wanted hipster, airstream, food truck kind of vibe at their down home wedding. We had a small budget so we did a lot of DIY projects to pull it off. I'm going to share the ceremony and reception details with you soon, but first I want to talk about her dress.
She knew what style of dress she wanted and we knew it would be hard to find with such a small budget. Can y'all believe what wedding dresses cost?! We shopped and shopped and shopped and couldn't find anything we loved. Finally she found a strapless dress at a wedding resale store that would work if we could find a cover for the top. Her older sister had worn a cover over a strapless and it was lovely, but they are different sizes so we couldn't use the same top. After much digging and thinking we had a grand idea….what if I made a topper out of my own wedding dress. Something old, something new. It seemed like a perfect idea.
I got married in the 80s, in case the dress style doesn't give it away. I mean those sleeves! No one wants to wear that now, which is why we didn't want to just try using it the way it was.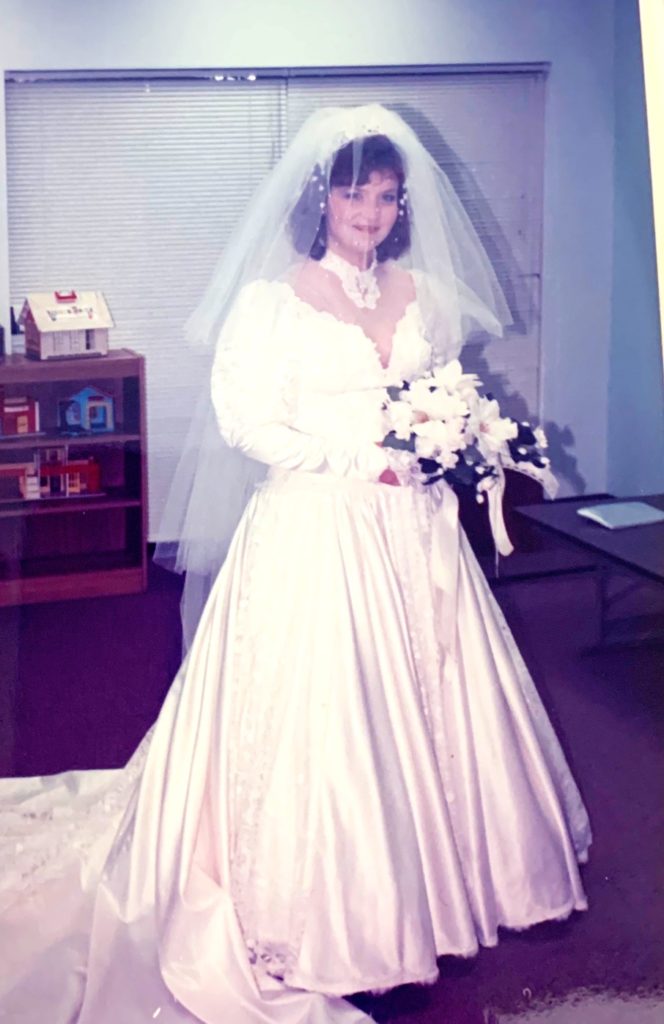 I pulled my dress out of storage and we took it apart carefully, doing our best to save every piece that was possibly usable. Then we got a bunch of muslin and I started making patterns and samples. I'd cut and sew and tweak and try it on her and make adjustments. I am not a seamstress at all, so this took time and courage.
When we finally had the shape and style she wanted in the muslin I laid out all of the pieces we had gotten from my old dress and started fitting them with the pattern I had made. Slowly I figured out how I would make it work and I set about sewing the dress topper. When I say slowly I am not kidding. For weeks we would try it on her as I sewed one bit at a time to make sure it was working. Sometimes I would have to carefully pick out stitches (from lace…do you know how hard that is?!) and rework it.
Bit by bit it came together. I have the sweetest memories of the two of us sneaking into my bedroom and closing the door in the afternoons giggling and trying on the WHOLE thing, the dress, the shoes, it took half an hour just to get her into it. It was all very hush-hush and the boys weren't allowed to see anything. It was The picture of classic dress making with pins in my mouth trying to talk and us stepping back and looking at it over and over trying to get it right.
I kept a basket on the floor by my recliner filled with my old wedding dress pieces, scissors, needles and thread. Every night I would stitch on some of the appliqués we snipped off of my dress or I would hand stitch the edging so it laid just right. It was a work of heart.
Finally the day before the wedding I finished it. It was bittersweet to button up all of those buttons for the last time. There were about 40 all the way down the back.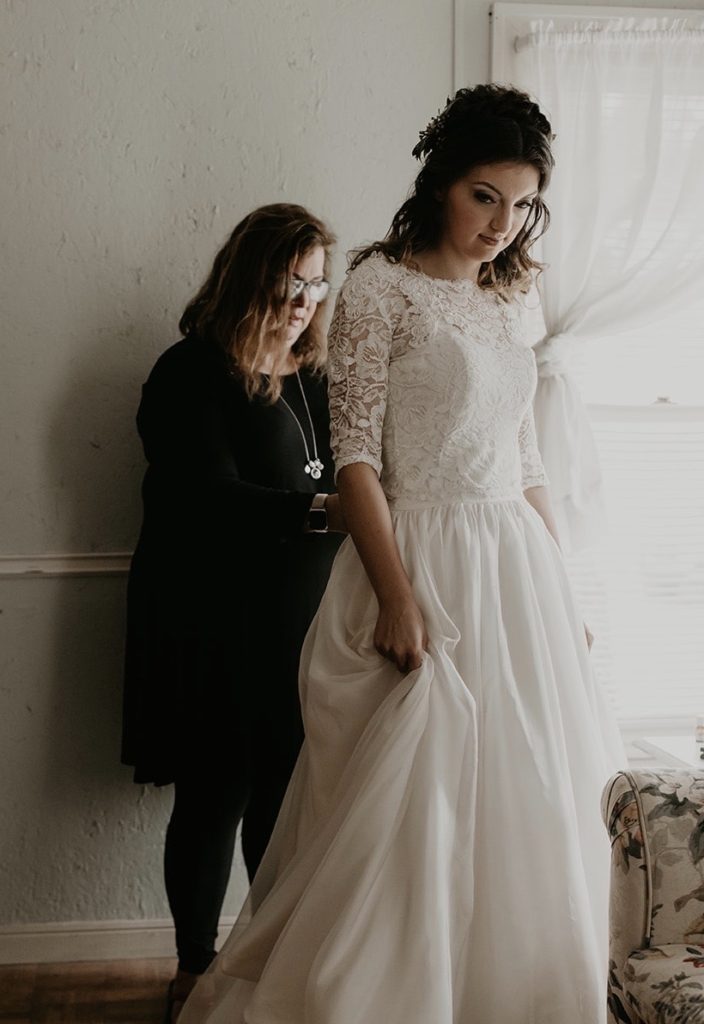 Here's a closer view. All I did with the dress itself was hem it and add straps (also made with satin from my own gown). But every part with lace that you see was made out of my own wedding dress, including the pearls and buttons down the back! She had a vision for the shape and style and I just did my best to make that vision happen.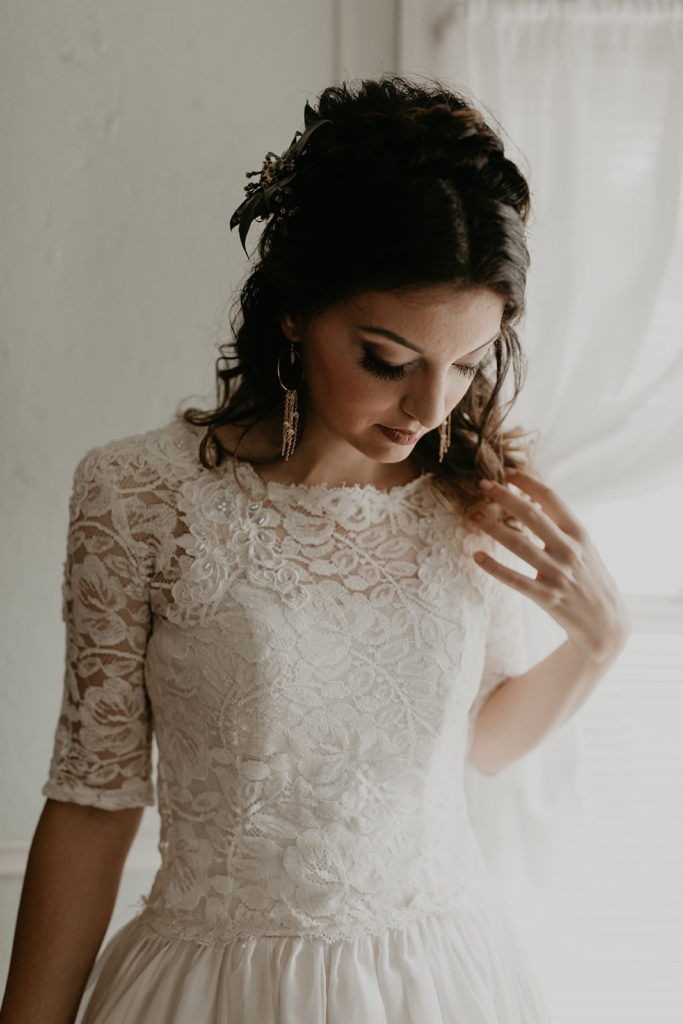 It definitely wasn't perfect, but she loved it. I didn't get to see their first look of course, that was between the two of them. But I think the pictures say it all. Nathan thought his bride was pretty close to perfect.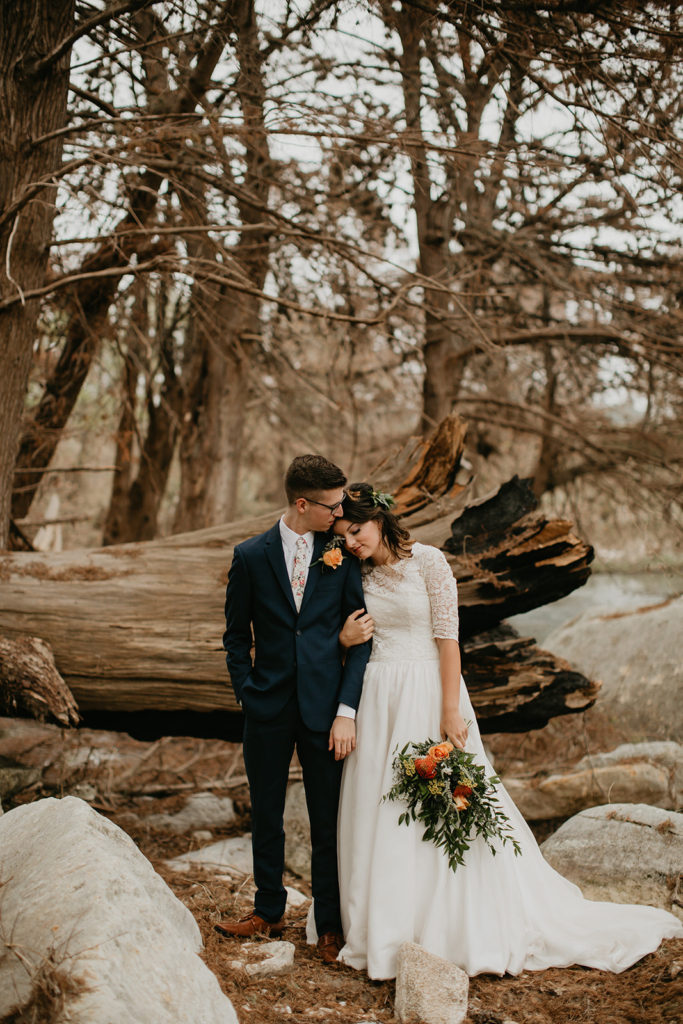 They made such a sweet couple on their wedding day. They had saved their first kiss for the altar. And then kissed a few more times on their way back down the aisle.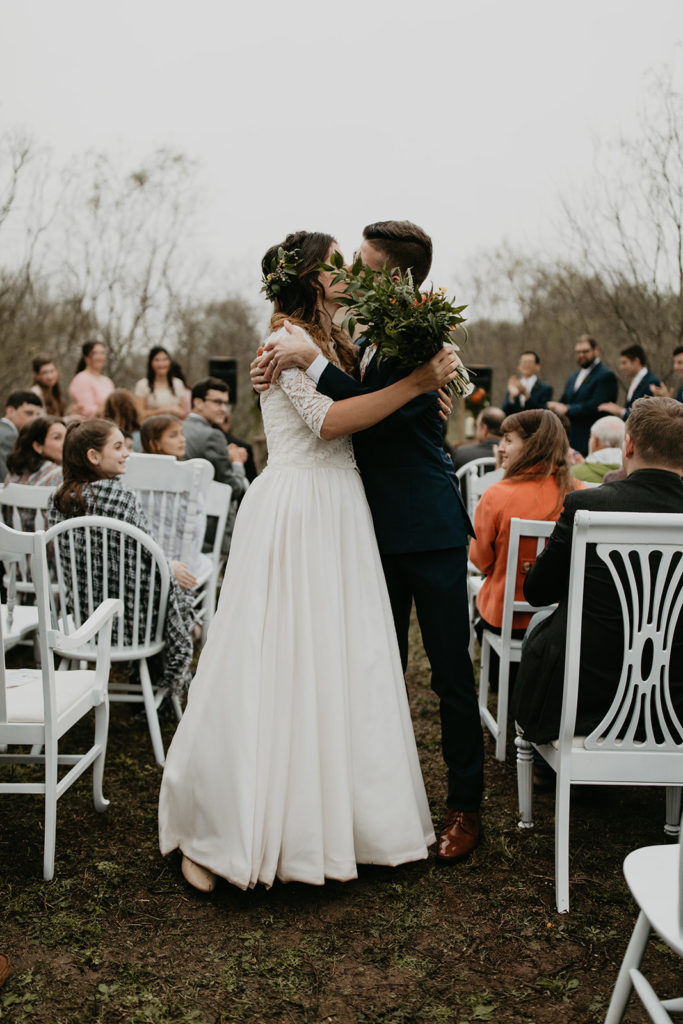 It was a really sweet wedding and I'll tell you all about the other details in another post. For now I wanted to focus on her dress and the love and time that went into it.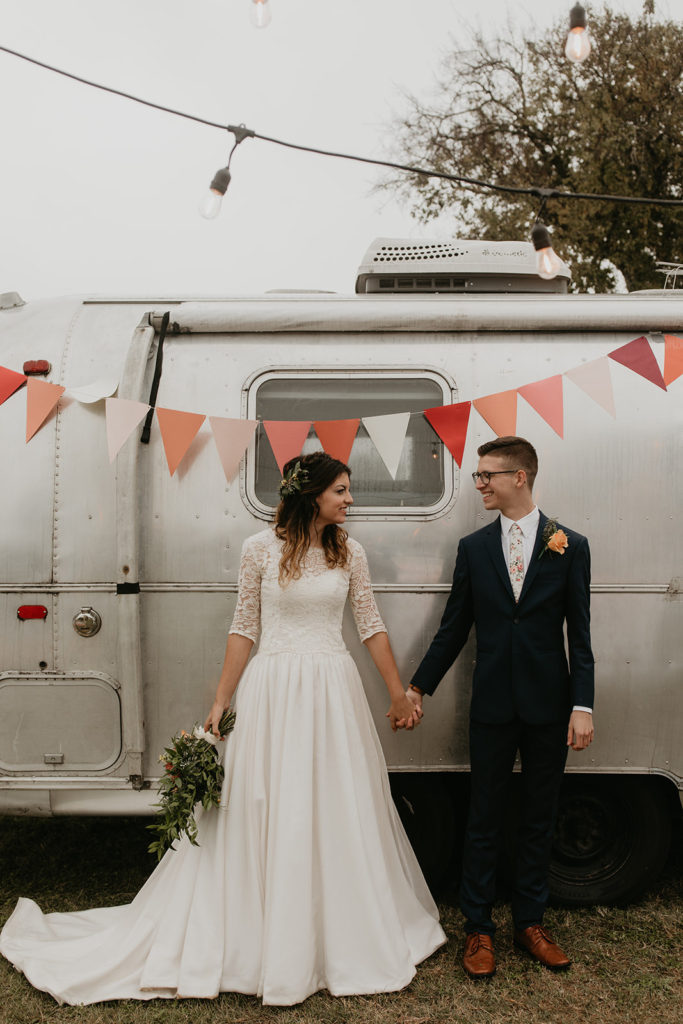 By the end of the night the part of the dress I'd made began coming apart (not falling apart, just pulling at a few seams). We did a lot of dancing and she threw her arms around her new husband so many times that it really stressed the topper, but it held up long enough to get the job done. It won't be something we can use again, but we don't really care. It served its purpose.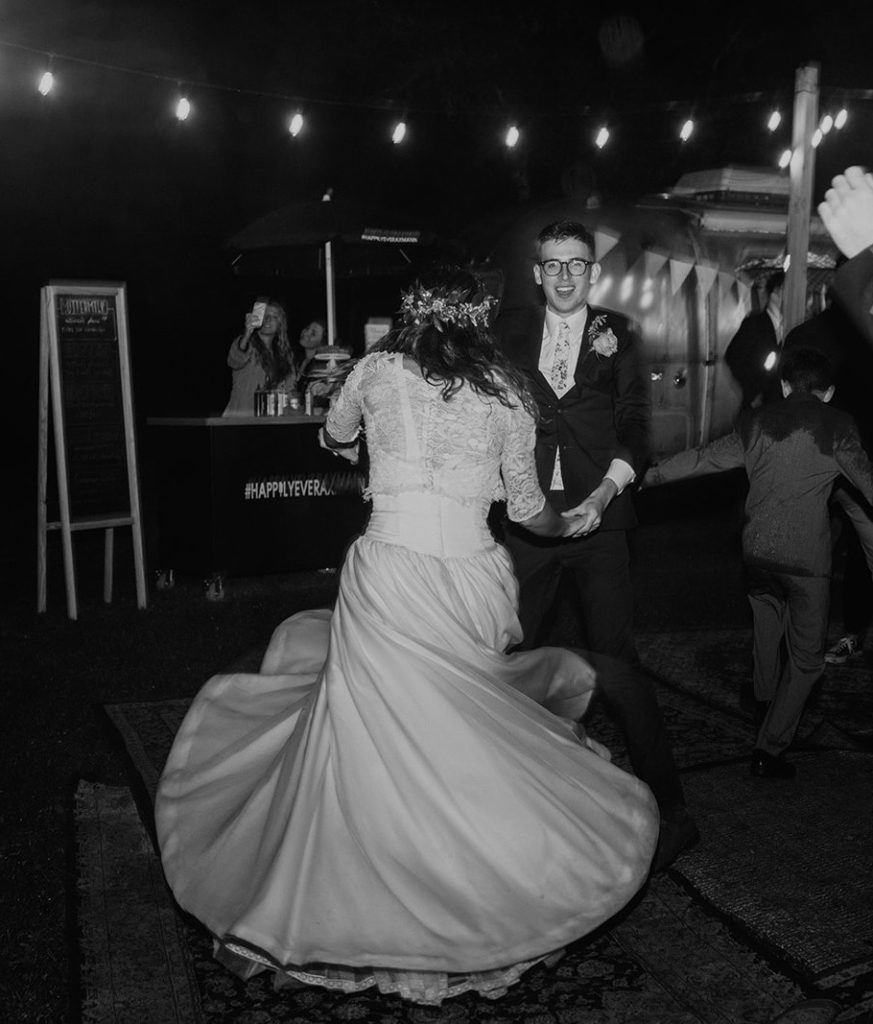 While there were many personal details in their wedding, her dress is my favorite. It was so much more than what she wore on that day. It represented family history and time spent together and vision for their future that is unlimited.
Be sure you're following me on Instagram where I share stories of the beauty of life!