Last January we started a kitchen remodel. The fridge had died a sad, miserable death and our countertops were broken in several places so it was time to do some updating.
There were several challenges. First, we had a smallish budget. Refrigerators are apparently half made of gold these days and I wanted concrete countertops, but couldn't find anyone to make them for me.
Then we had a house fire and the whole kitchen project got stalled. We spent 5 months out of the house while it was being repaired and rebuilt. Once we could move back in there were so many fire recovery things left to deal with that I couldn't focus on the kitchen. I did find a fridge after we moved back, but the rest of the kitchen was left a mess.
Finally in September I found someone who could do the concrete counters that I wanted and we got the project restarted. We finished the kitchen just a week before my daughter's wedding that was being held at our house. I'm telling y'all…crazy busy doesn't even describe it.
Now that the wedding is behind us and we're starting to find our new normal I can show you to the finished kitchen! I love it so much I want to marry it.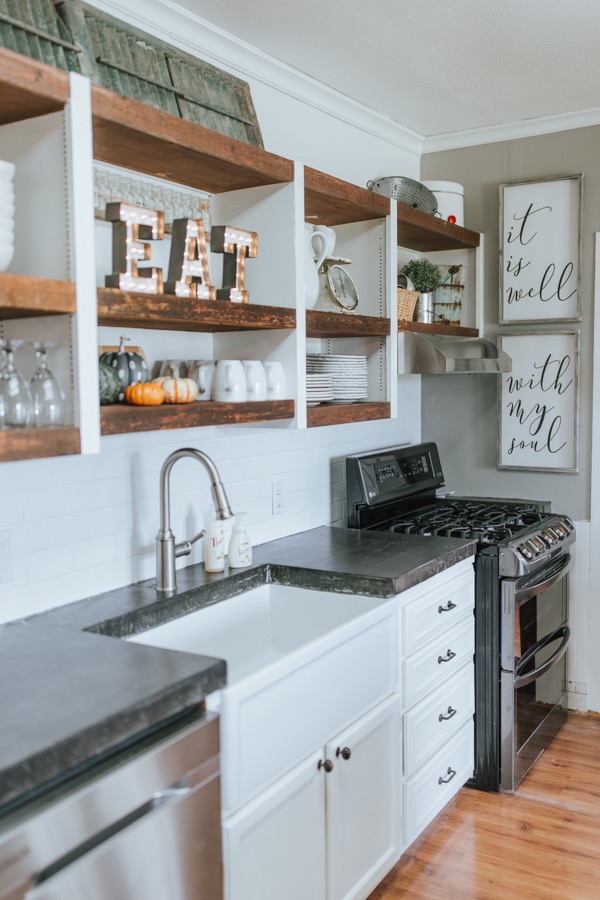 Before the remodel we hadn't had a dishwasher for three years!  There were issues with the fit of the dishwasher that prevented us from being able to replace the old one when it died, so we were so excited to be able to get that done during the remodel.
Also, like many southern gals, I'd always wanted a huge apron front sink so I added that to the list  I am so in love with how it looks with the new counters and white subway tile backsplash.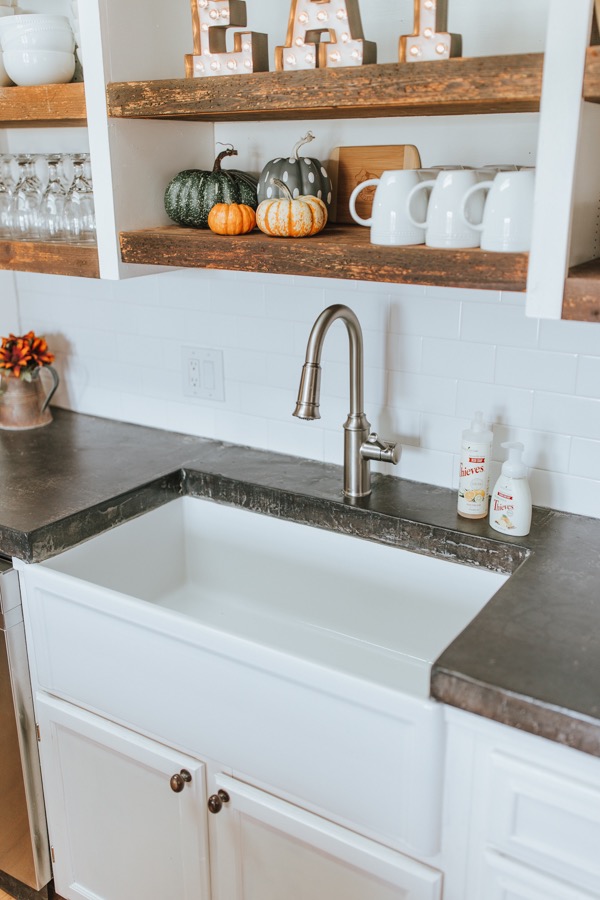 I already had the open shelving above the sink. I did those a couple of years ago and I still love them! I used new wood and aged it with vinegar+steel wool and it looks like old salvaged wood.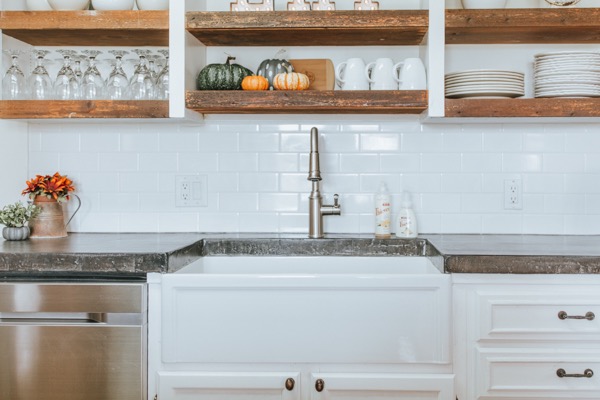 The fridge used to be at the end of those cabinets, but we decided to open that space up and relocate the fridge to the other side of the room. That gave me a wall for my oils.  I built the oil shelf to fit my space perfectly. Now we have oils in the kitchen that the whole family is free to use. I also notice our guests love trying them, which is great! If I have an oil you want to try when you're at my house, go for it!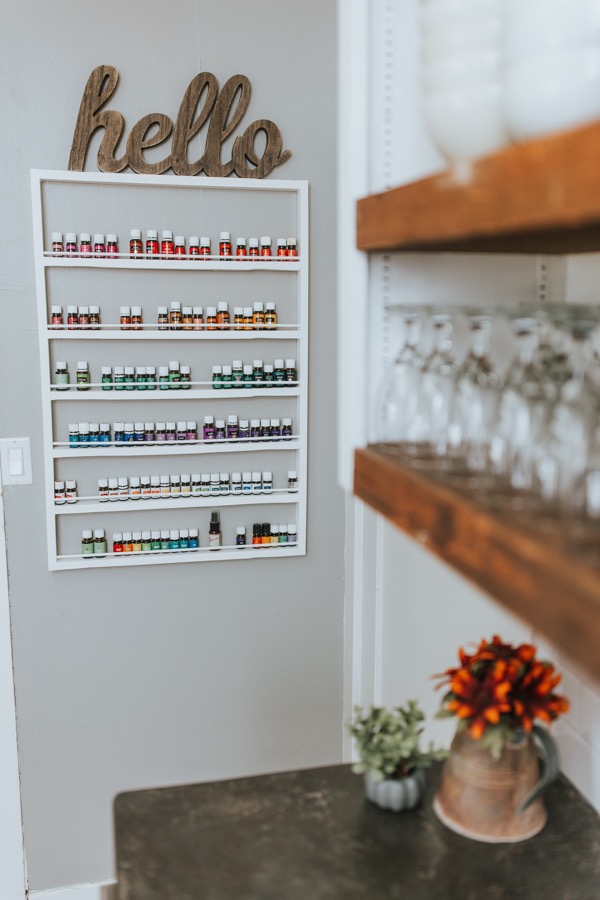 Normally I store my oils in alphabetical order, but for this shelf I threw all that out and just plopped them up there in a rainbow pattern. FUN!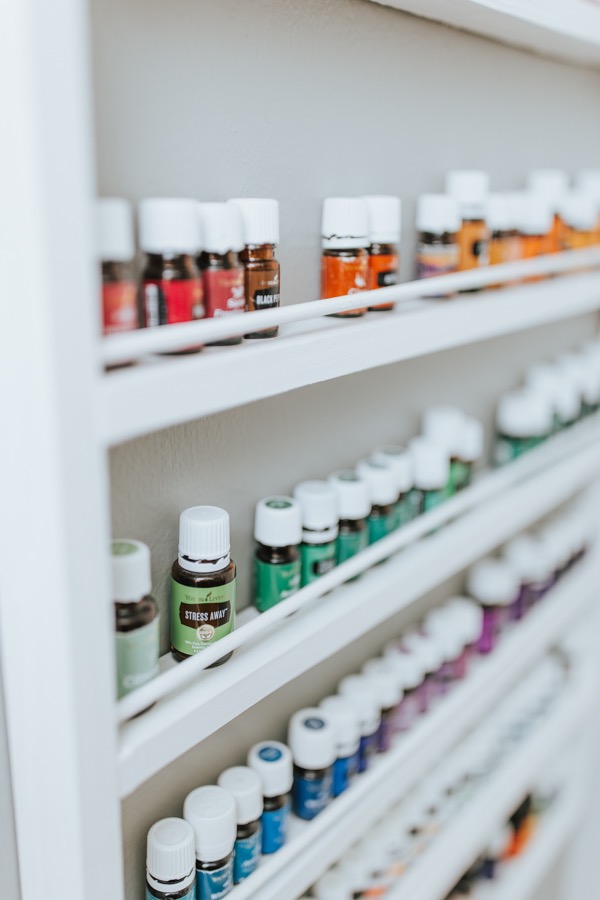 The large the island stayed the same. That countertop is one that I made years ago with wide pine boards. I made it thinking I could just change it when I found something better, but I still like it so it's staying!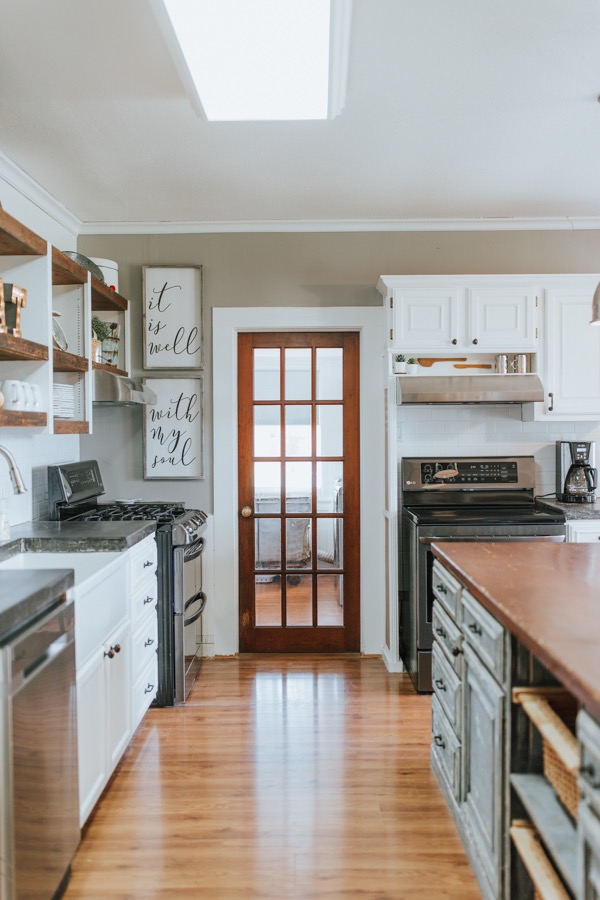 We have 2 new ranges, one gas and one electric. Our old electric was on its last leg and not repairable. I found one on scratch & dent at Best Buy and grabbed it. Then just a month later I found the matching gas range there too….scratch & dent again! Y'all it's worth keeping an eye out for those great deals!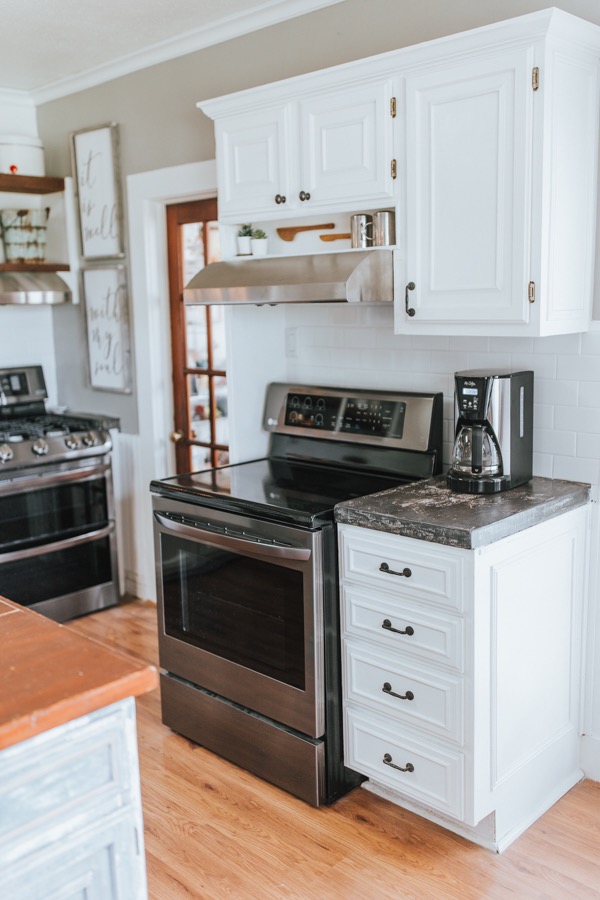 We also replaced both vent hoods, which cleaned up the look of the kitchen a lot. There had been a microwave over one and a decorative hood over the other. Now they match and they're sleek and fresh. Over one of them we were left with a little space above so instead of covering it up I used it for spices and little decorative things that make me happy.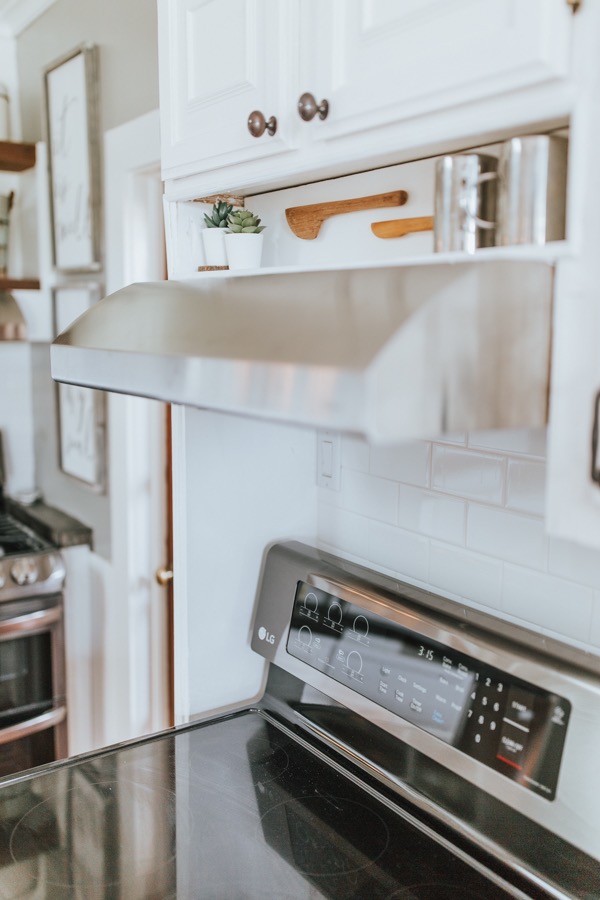 I'm crushing so much over my concrete counters y'all. Seriously love them so much. We used the same company that built our boys' bathroom shower and they were so great. I recommend them to everyone local (even though I want to keep them for myself because I have other jobs to do and I'm at the back of the line again since they're so busy).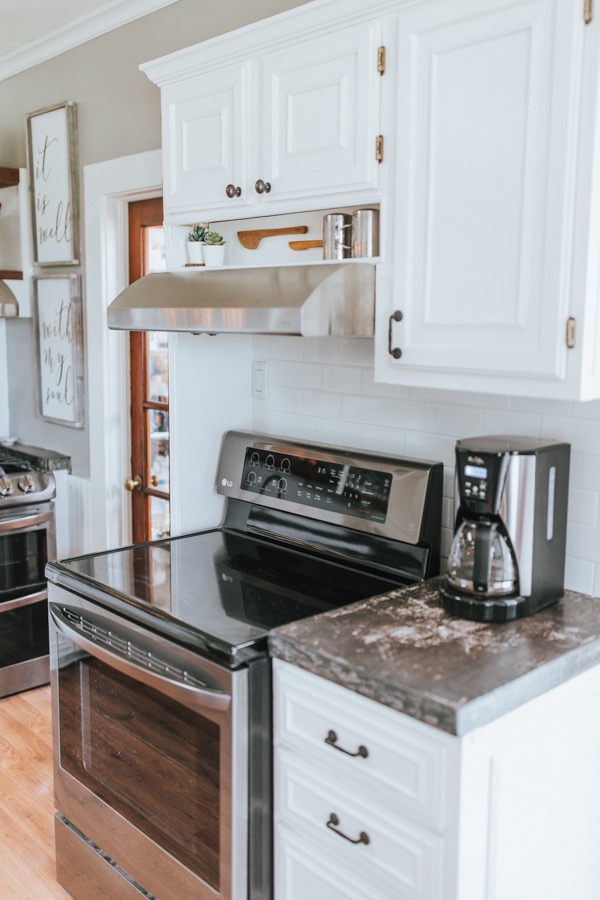 Next to the little counter in the pic above is a French door leading outside. There used to be a window there, but we changed it to doors and built a deck going out to our pool. That deck is also a great spot to eat lunch in the spring. We recently added the 2" blinds to the doors and I love them so much! They're Levelor from blinds.com.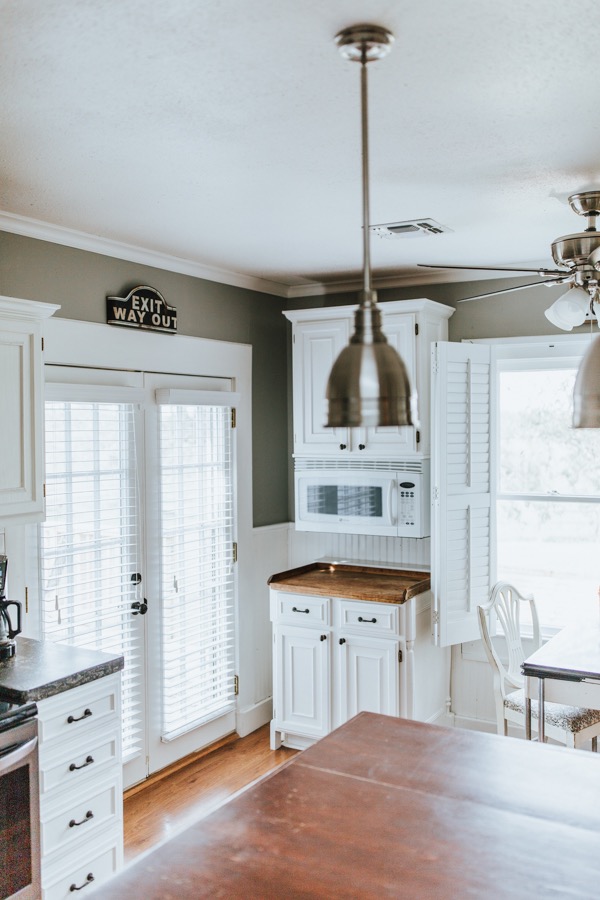 I got the shutters on the window around the corner from them a few years ago and still love them more'n my luggage.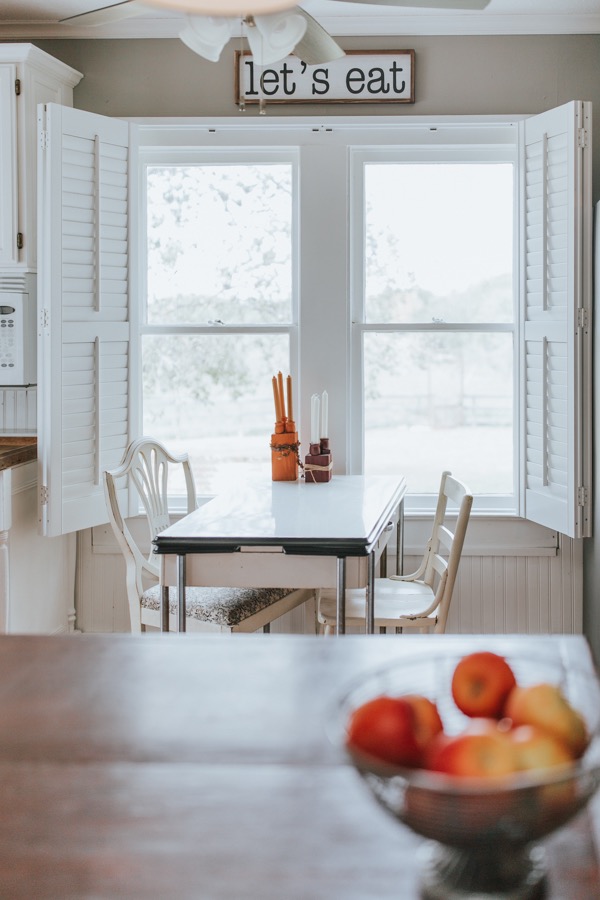 I removed a pot rack that used to hang over the island and added pendants. Since there was no wiring for that and when I asked our elecrtician how much he would charge to add wiring the amount he told me would buy a small island, I decided to try something else. I added FAKE pendants using the idea from Nesting with Grace . It worked GREAT and I love the way they look. They don't put off a ton of task lighting, but they're perfect at the end of the day to leave on for a path to the kitchen and they turn themselves off after we've all gone to bed.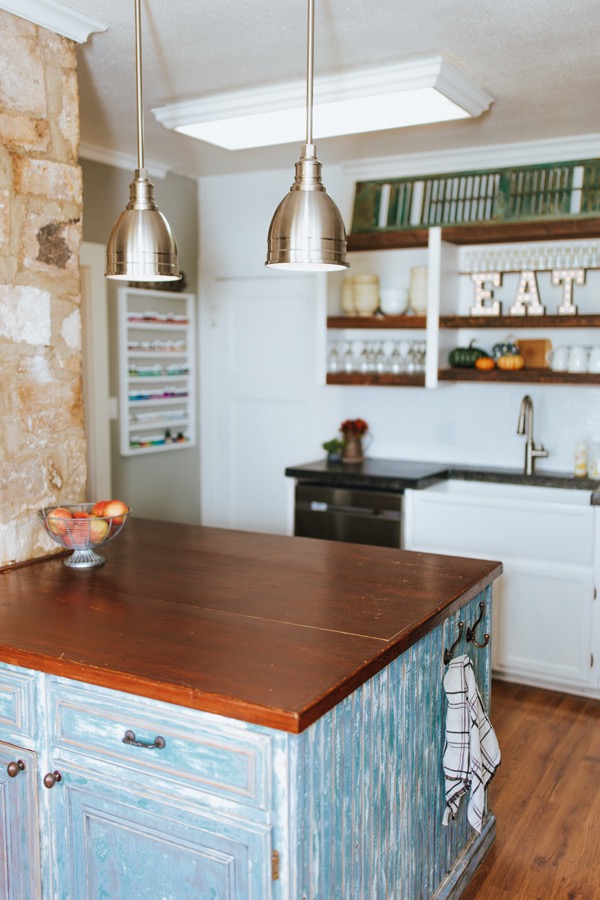 One thing that stayed the same because I loved it before, is the little chalkboard next to the electric range. This is where we all write down what we need from the store and it makes it so easy to check before anyone runs into town.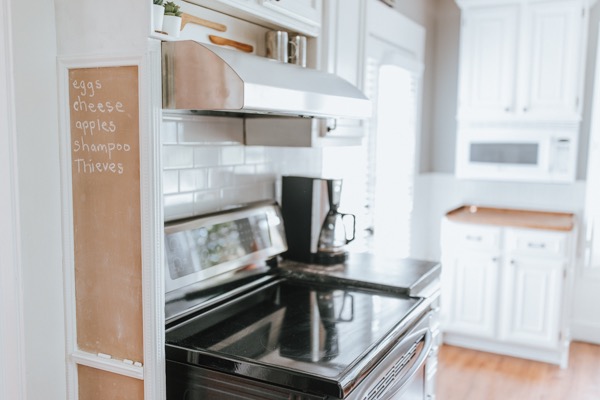 And finally we wind our way all around the room to the fridge. I still want to build a cabinet around it, but that project will have to wait until spring when I'm not so burned out on construction. It's been quite a year y'all. But I do want to put in a plug for this fridge which I searched high and low for. It's an LG Flex Fridge, which means one half of the bottom can be either freezer or fridge. So I use that little part as a fridge for my personal food. Being that I am always on some kind of diet and my kids will just grab my $20 Whole Foods fancy bar as a snack on their way to go play outside, I needed a hiding place. So they know that eating anything from the small lower fridge means a year in food prison with no chance for parole. And since we have a second freezer, that little space in this fridge is perfect for just the things we need daily.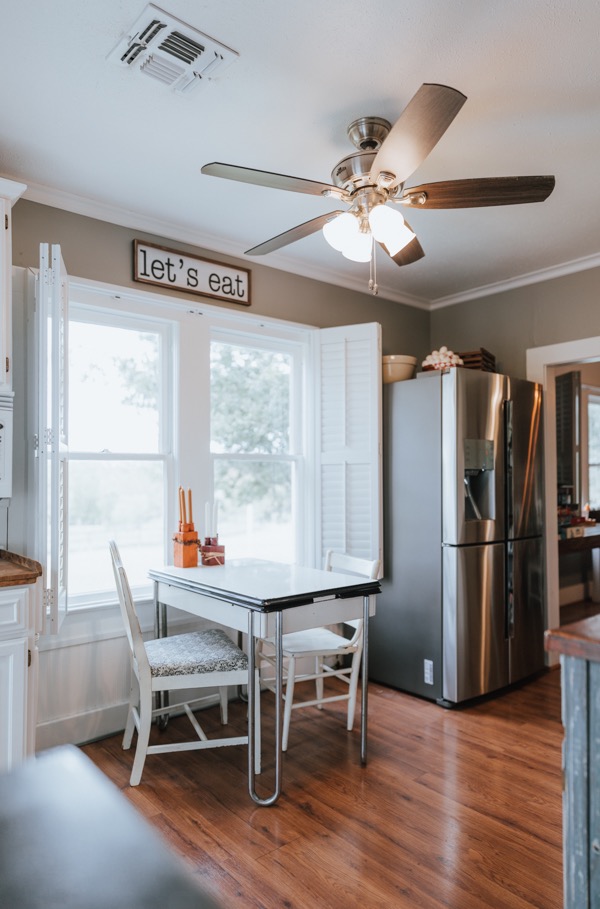 Well we have reached the end of the tour and I'm sad because I want to talk about my kitchen remodel all day. No more walking in there to make lunch and wishing it were different. It's all happiness all the time at our house (I kid….happiness come from Jesus not kitchens).
Thanks for hanging out and letting me show you my kitchen. Come by some time and you can try all the oils and I'll even let you eat something good out of the "Mom-only" section of the fridge.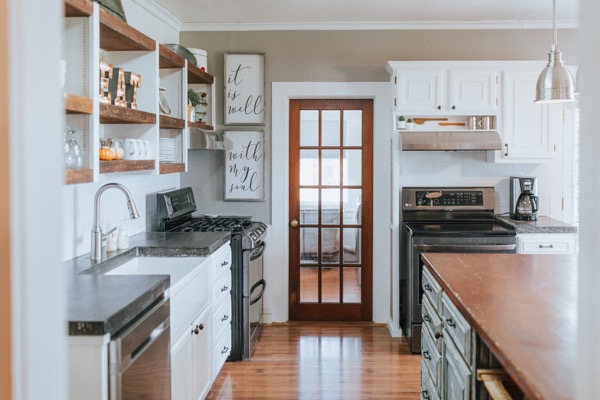 Here are the deets on where I got the products:
Best Buy: All of the appliances are LG
Blinds.com: Levelor 2" faux blinds and 2" shutters
Home Depot: Moen faucet, vent hoods, pendant lights, 6" white subway tile
Hobby lobby: It Is Well pictures
Young Living: all the amazing oils…email me if you want some!
Paint color: walls Behr Still Gray, trim Behr Palais White
Concrete stain color: Behr Harbor with Carob over it.
Be sure to follow me on Facebook to catch all my remodels and mess making!