I've been working my way through the house for the past few weeks, trying to show you all the newness after our house fire.  I've shared our Harry Potter bedroom for my teenage boys, their newly remodeled tiny bathroom, the travel themed boys' bedroom, our hipster daughter's room and my front porch.
And now we move on to the grown up areas of the house.  This is our exercise room/guest room.  Before the fire it was a catch all.  I had my crafts in there and we had a full sized bed, which basically filled half the room.  We never used it for guests because you'd have to climb over all of the sewing machines and boxes of crafts supplies to get to the bed.  So when the fire happened I knew it was an opportunity to make some changes.
Also before the fire we had the exercise equipment in our bedroom, which I hated.  Since we use them regularly I wanted them in the house, just not at the foot of my bed staring at me all day long.  So we moved them into this little room I am about to show you.  When I say little…..I mean LITTLE! I originally used it as my nursery, which was perfect.  But now it has taken on a new level of perfection!
The room is only barely wide enough for a twin bed.  Since we had to replace the bed anyway after the fire, I decided to get a daybed.  The old bed size wasn't working in there! I found one on Wayfare called the "Pennington Bed."  It was a sign we had to have it, obvi!
It's a gorgeous gray with a tall, tufted back.  I love it so much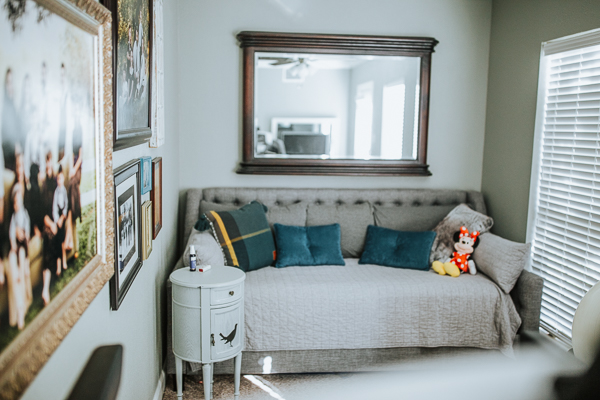 I had trouble finding adult looking bedding for a twin bed.  Everything is bright pink or cartoon characters.  I love Disney, but I don't want Anna and Else on my bed cover. So I got a gray queen sized bed cover and cut it down to fit a twin bed.  It was as simple as just putting bias tape along the cut edge.  And I used the cut off piece to make bolsters for each end of the bed.  This is the simplest form of sewing y'all!
Thankfully we didn't lose all of our pictures in the fire.  Most of them were in a closet and we just had to have them cleaned.  I decided to create a family gallery wall in this small room.  I love that its all in one place and not all over the house.  Plus I got to hang some of the large family portraits that we didn't have space for anywhere else.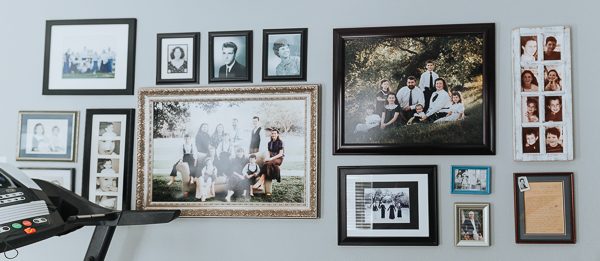 The new blinds are from my fave place for window coverings…blinds.com!  These are the 2″ faux wood Levolor blinds.  Sign up for their newsletter and you'll get emails with discounts!  I just waited for the right sale and got them.  They were super easy to install!  We have the same blinds in several others rooms.
The treadmill is in front of the wall of pictures and the little stretch machine (I love, love stretching on this machine!) is right there across from it with just enough space to walk between them to the bed.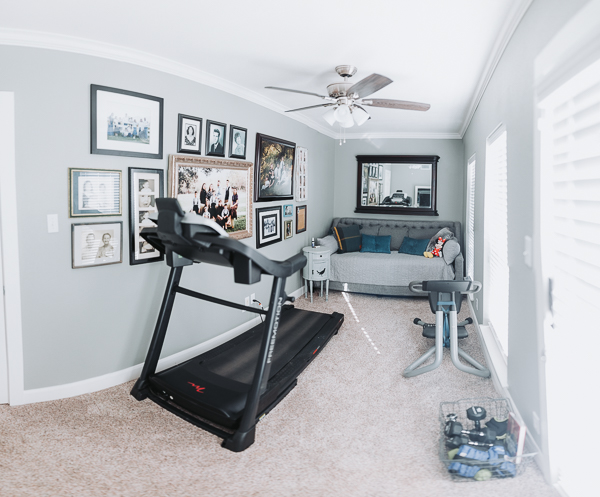 The key to making a room with a treadmill in it look nice is to be minimal about what else you put in the room.  Crowded rooms always look messy and a treadmill dominates a room and they just don't work together.  I love how this little room still feels cozy.
Even Minnie agrees!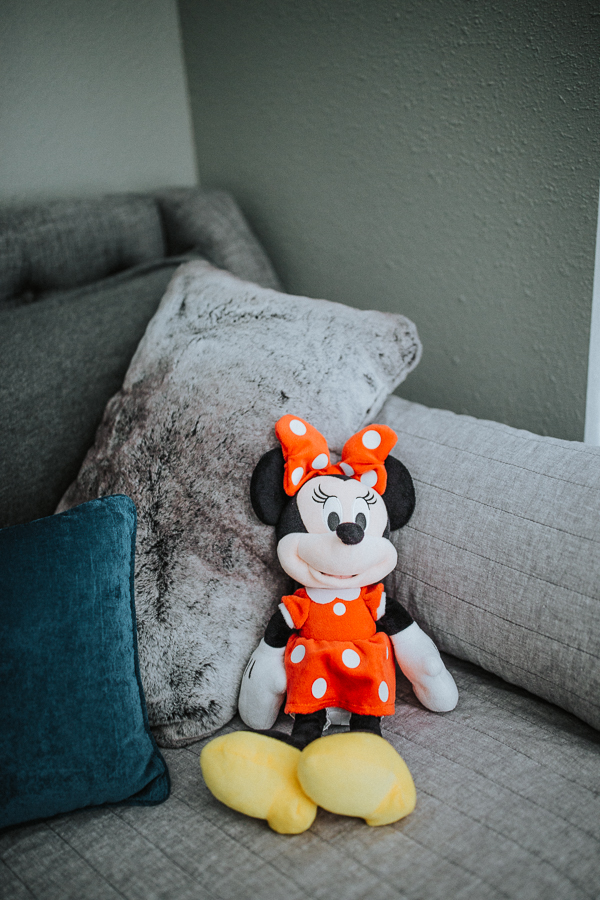 It took me for-e-ver to find throw pillows for this bed.  My colors just weren't gelling with the current trends and I didn't want to break the bank at an expensive store.  Patience was my friend and I just kept looking.  Any time I was in a place that sold throw pillows I'd quickly peruse them until I found just the ones I wanted.  Across the back of the bed are two king sized pillows and one standard that I put gray, stretch pillow cases on.  Since there's no storage in this room I needed to have the pillows in here that a Guest would actually sleep with, so just putting them right on the bed worked out the best.
On the far wall opposite of the bed is an old dresser that we painted white.  I was so glad it was able to be cleaned and restored since it belonged to my grandmother.  There's a small TV and, of course, a diffuser on it.  Simple, pretty and functional.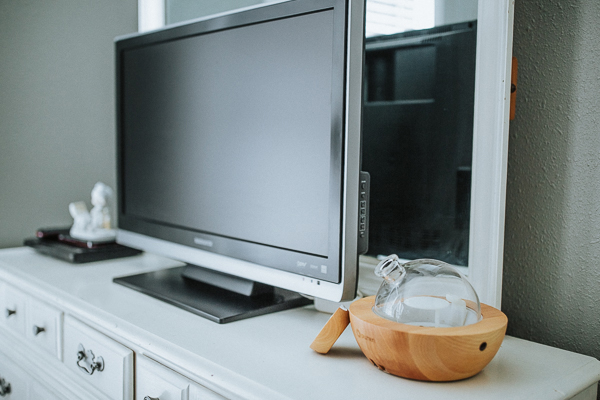 The FAB old mirror that hangs over the bed was from a consignment shop I frequented after the fire.  I needed to replace so much that I had to search for deals.  I fell in love with it and brought it home, not considering the fact that it weighs about 125 pounds.  It's seriously heavy y'all.  We set aside an evening for my husband and I to hang it and after almost two hours of hanging, I was just glad the mirror and my marriage were still intact.  It will always hang there from now to the end of time.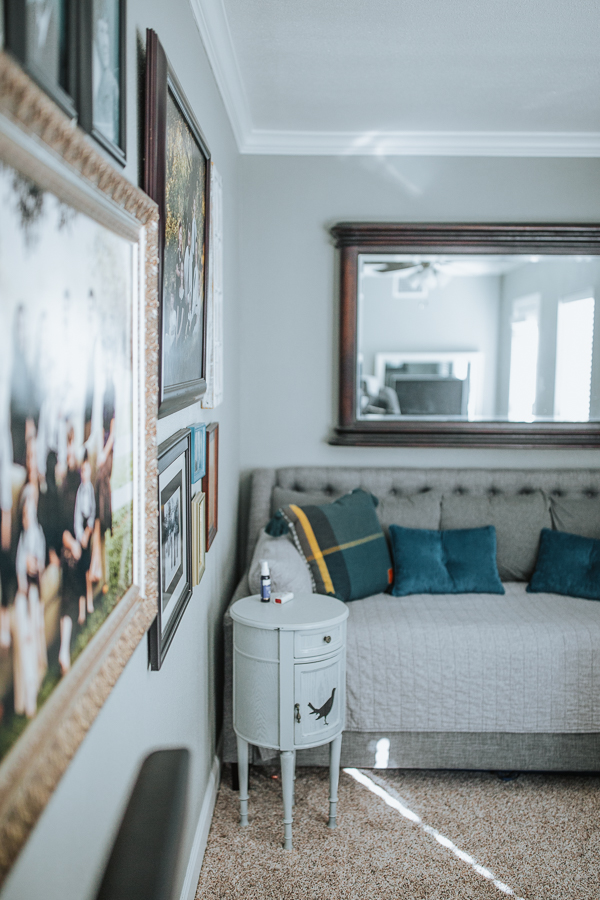 I haven't talked to you about the new carpet we got.  It's yummy!  I had one day to figure out my carpet and I had a tight budget for it.  AND it had to be available to be installed within a week.  TALL order.  I ended up with one from Home Depot and it's so soft under your toes that everyone who comes over comments on it.  "Wow this is soft carpet!"  Since we had berber before it's been a big change to have softness under our feet.
So this is our little side room.  We use it a lot more than we used to!  We're on the treadmill every day and the kids can use the room for quiet study.  And we have already had guests in there several times, so it's proving to be much more functional!
Be sure to check out our other room reveals…
Welcoming Fall Porch
Travel Themed Bedroom
Hipster Bedroom
Tiny Bathroom with a Big Impact
Harry Potter bedroom
And be sure to follow me on Instagram where I share a lot of the ups and downs of this home remodel!