Now that we are fully into the holidays I feel like I can relax.  It may sound crazy, but I do all my prep the week or so before Thanksgiving (yes, we put up the tree the weekend BEFORE Thanksgiving) so that I can just relax after.  We had the kids home and a houseful of friends over and now the house is clean and the tree is up and the fridge is stocked with all of the food we didn't eat over the weekend because I always buy too much.
I added some new things to the front porch this year.  The old stuff was worn out and tired so I got rid of it when I cleaned out the storage building last summer.  I went to Walmart and just picked up a few things and it feels so much neater and coordinated.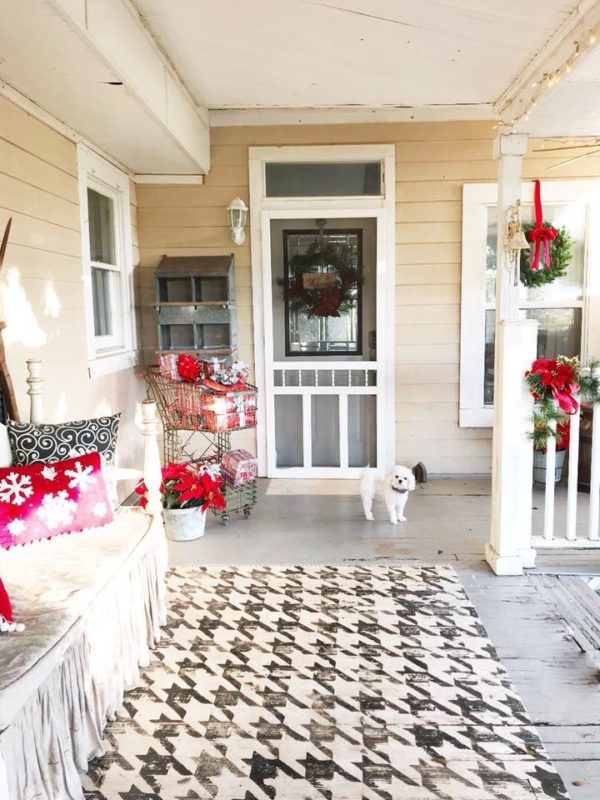 And I did some shopping for stockings and small gifts for those people you give to like the guy who delivers our water and the friend who teaches my boys grammar.  But I never left the house for any of it.  I did all of it online and stayed in my jammies all day on Friday.  I can't stand the crowds.
I got in on the Young Living deals for Black Friday.  If you missed it you can still order some things…they make wonderful gifts!  A bottle of lavender and a baby blanket to a new mom, makeup and brushes for the young lady, shaving oil for the guys and an oily fidget spinner for the boys with some Cedarwood to go in  it (focus is good!).  Hand Purifier makes a great gift (especially considering how terrible those hand purifiers in the store are!).  I loaded up for gifts!
Speaking of Young Living…..I want to make it easy for you to get your Premium Starter Kit so I am sending me new members $25 in cash back until the end of November.  Yep….that's a great deal y'all!  $350 worth of oils and a diffuser for $160 PLUS $25 back!  You can't say no to that!
CLICK HERE to get started!
If you have any question s you can drop me an email and I will send you more info!
I'll be diffusing Christmas Spirit with Orange or Thieves.  It's better than a candle!
Have a great week…..holidays here we come!