Don't we all have dreams that we don't share with everyone?  I have lots of them!  I want to go to Australia and do some scuba diving.  I want to learn to dance the Jive.  I'd love to meet each of you and spend time sitting on my porch and getting to know you personally.  And I have secretly dreamed of selling makeup.
About 15 years ago (when I was still in my 30's but thought I was getting old) I started to learn more and more about makeup.  I would spend more money than I should on products that promised coverage and beauty that they rarely delivered.  Then when YouTube got big I started watching makeup application videos.  Not from companies, but regular, everyday people like you and me.  I'd learn their tips and watch their reviews and sometimes buy the products.
But I also have a passion for getting the toxins out of my life.  Y'all, we are so overexposed to chemicals that are stressing our bodies and we don't even know what kinds of damage it's causing.  The stress alone, forget the direct damage these toxins are causing, could be causing our body to struggle.  We have got to get serious about this!
For us it started with household cleaners.  I have always been "crunchy" so we didn't have to get over-the-counter meds out of our life since we didn't use them, but if you do use them then start there.  When I started learning more about the body's response to toxins I switched everything over to Thieves Cleaner (this stuff is incredible!) and natural products for our personal needs.  Next I went on a search for good makeup.
But it was hard.  I would sample something in Ulta, look up the ingredients and be like, "well that's a no."  Even the companies who claim to be all mineral makeups either had unwanted ingredients OR the makeup wouldn't last for more than an hour.  I'd spend $35 on a mineral makeup only to have it gone before noon.  What's the point?!  Ain't nobody got time or money for that!
But then last month something wonderful happened.  Young Living announced that they are carrying a new line of makeup.  Yep, it's all minerals and no parabens, talc, bismuth, petrochemicals, nada!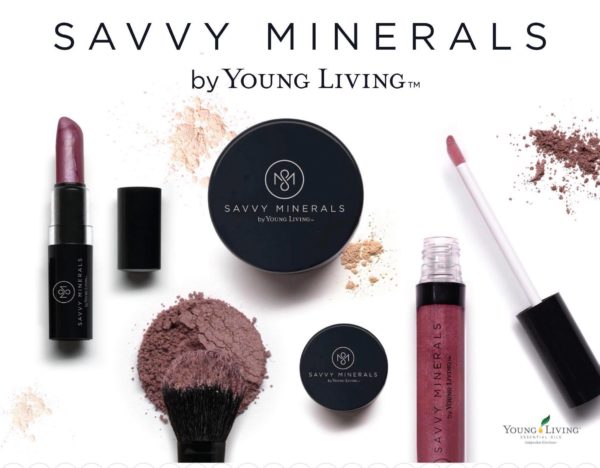 I wasn't convinced at first.  I've been down this road before.  I expected it to wear off quickly, not apply easily or cover well (these under eye circles of mine are serious y'all).  But I love this company and so I decided to buy some and see what happened.  I wanted to be able to honestly tell you if it is worth the money.  Truthfully, I expected to be disappointed.  And I would have told you the truth.  I would never sell something I didn't love myself.
I started playing around with it a couple of days after I got it and was pleasantly surprised.  But a few days isn't enough to really know, so I watched YouTube videos and followed the people on Facebook who know what they are talking about.  The gal who created this makeup line is a Young Living leader who loves makeup and was fed up with the toxins.  So she started just making her own and her friends all wanted some so she created a little makeup company.  Then she sold it to Young Living  and now they sell it!  But she is still the ambassador for the makeup and she is so cute and inspiring!
So after experimenting and playing around with what I bought and learning more about it….I am completely hooked.  I will never go back to those other makeup brands.  I even got rid of all of my other makeup including what I have recently purchased.  I am all in with Savvy Minerals.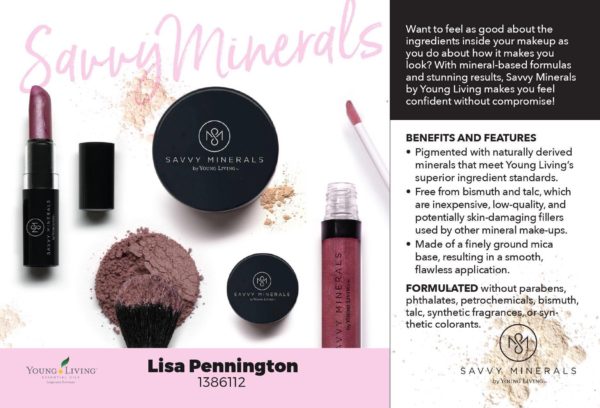 Now that I have been using it for a few weeks and have tested it in the most difficult of circumstances (we are talking Texas summer heat here, people) I can tell you that it stays on great! And the colors are amazing!  This has been another problem I have had….finding good, natural (but a little shimmery) colors.  That problem is over now.
Last Sunday morning I put my makeup on after my shower around 8:00.  Then I cleaned the kitchen, cleaned off the back patio (sweating), went to church, rushed home for lunch then back out to help a friend get ready for her son's graduation party, came back home and helped one of my sons outside (more sweating) and then by 7:00 I was done for the day.  I never reapplied any of the makeup (or really even looked in a mirror) except for the lipstick.  It stays on longer than most lipsticks, but I did put more on after each meal.
Here is what I looked like at 7:00pm (I didn't even think about getting a before photo that morning!)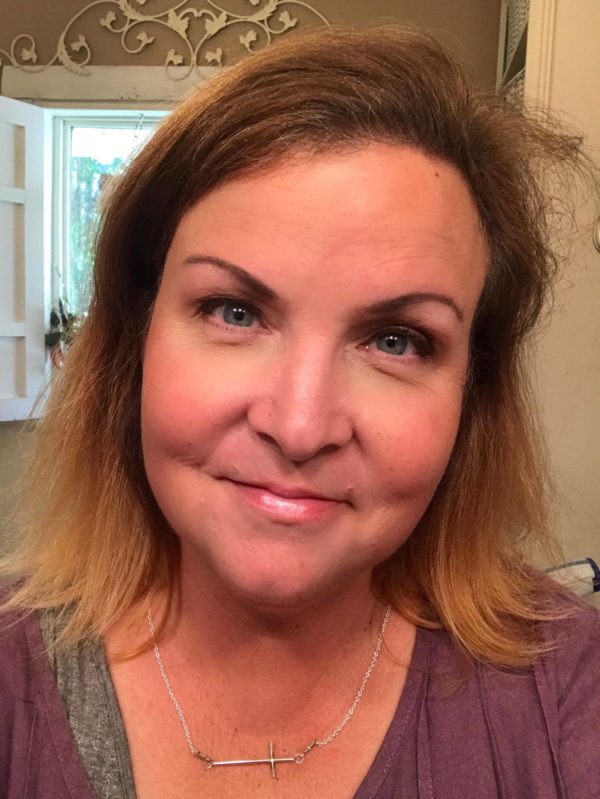 The bronzer is about half gone, but the rest of it is still on, including the foundation.  This shocked me since I was wiping my face and sweating so much outside.  And know what else is so cool?  My eye makeup stayed on and didn't have those little makeup creases in the eyeshadow.  I always get those, so this is really cool!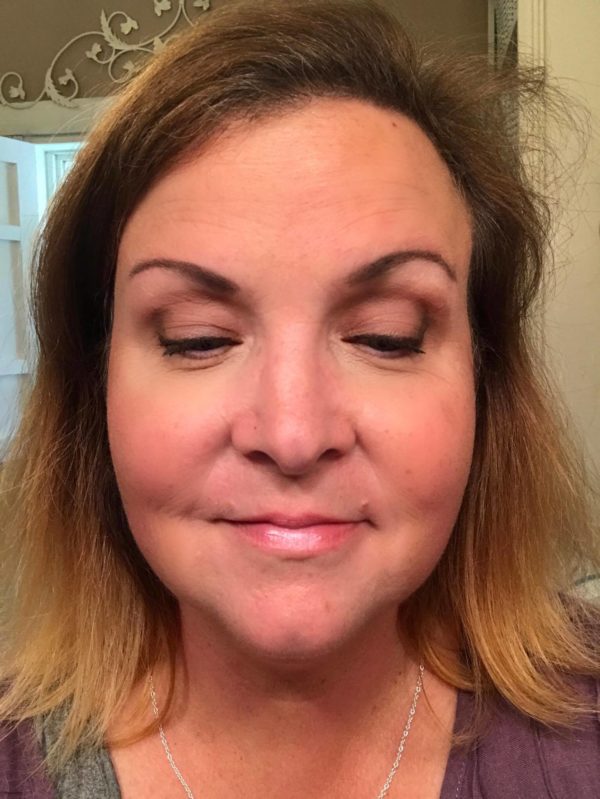 I just used the eyeshadow as a powder and didn't add the Misting Spray for my shadow.  I like a more natural look, so I don't want to make the eye colors high impact by adding liquid (also called foiling).  I thought for sure it would all have come off by the end of the day.  The lightest color I used on my brow bone was less bright by the end of the day, but the other brands I have worn would be completely gone by then.
In other words, I am totally sold on this makeup.  It's surpassed all of my hopes and to know that it is actually nourishing my skin while I am wearing it is a double bonus.
If you are already a Young Living member then you can just open up the site, sign in and order some makeup.  Reach out to your leader and they will help you figure out what you need.  If you aren't yet a member, let's get you signed up and I will walk you through the makeup and how to build your collection within your budget.  Be warned, you will eventually want it all.  😉
You have two options:
 You can get your Premium Starter Kit and add the makeup you want to your order.  This is my recommendation because you also want the oils….they have been life changing for our family!  When you choose this option I will send you a whole box full of goodies to help you get started!  This option gets you 11 oils and a diffuser (you WANT a diffuser!) for $160 + the cost of whatever makeup you order.  It's a FAB deal!
You can get the Basic Kit and then just add your makeup.  The Basic Kit is $45 and that will only get you one bottle of oil, so think hard about this.  You'll be missing out on some amazing essential oils if you don't get the other kit.  BUT you will still be on my team and I will add you to my Facebook group and stay connected with you and I will love you just the same. 🙂  I will help you figure out what colors you need and walk you through the makeup application.
Either way, I'm here to help!  You won't be alone in your new oil and makeup journey.
Sign up here – Just do it!!!  You won't regret it.
Since I know how many of you will want to know what I am wearing in the pictures, here is the list of the makeup I wore on Sunday morning:
Foundation – Warm #2  (all over my face)
Misting Spray
Fountation – Warm #1 (for my concealer)
Bronzer – Crowned All Over
Diamond Dust Veil (I think this helped it stay on all day!)
Lipstick – On a Whim
On my eyes:
Best Kept Secret, Determined, Residual, Unscripted and Wanderlust with Jet Setter eyeliner
The only things I am using that aren't YL are my eyebrows and mascara.  I haven't found a way to do my brows with the minerals that looks like I want and they don't have a mascara yet, although it is supposed to come soon (believe me, I will test it thoroughly when it does!)!  Otherwise all of my makeup is Savvy Minerals by Young Living.
I hope you'll try this makeup line.  I feel like it is giving me the opportunity to do something I have secretly always wanted to do…share makeup tips and help you get the toxins out of your life.  Double blessing!
Be sure to Sign up here and let's get you started!  If you have questions, hop over to Facebook and message me….I would love to help!