This month is our 31st anniversary and we decided to celebrate at Disney World.  Not with kids, just the two of us.  Yes, we are grown ups who love to go to Disney World.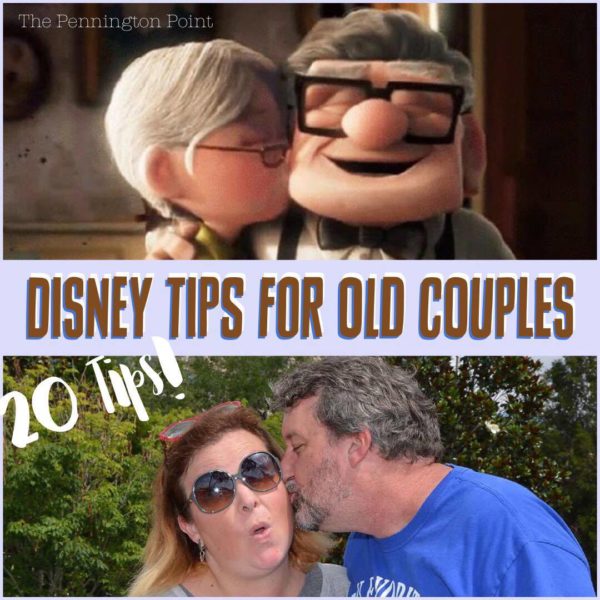 I am always surprised by the number of other couples we meet there who go without their kids.  I love taking the kids, but those trips are fast paced and exhausting.  When hubs and I go alone we take it slow and easy.  We enjoy a lot of things the kids don't ever want to do.  We do Disney grown-up style!
Here are my 20 tips for doing Disney when you're an old couple.  😉
Enjoy the Restaurants There are some amazing restaurants on Disney Property and we love to try them! My advice is to save the character dining for the trips with the kids and eat at some of the more "adult" places when you're alone.  Our personal favorite is the Yachtsman Steakhouse at the Yacht Club Resort.  Oh. My. Heaven. You can walk there from Epcot, which makes it easy to get to.  But there are so many great places to eat that I couldn't name them all….try the resort restaurants and not just the ones in the parks.  Be sure to make a reservation!
Watch the Live Shows There are some amazing live shows to enjoy.  "Beauty and the Beast," "Festival of the Lion King," "Indiana Jones Epic Stunt Spectacular!," "Finding Nemo the Musical, and "Frozen Sing-Along" are all live shows that vary from one performance to another.  We saw "The Music of Pixar Live" last week and it was like going to a concert….amazing!
Enjoy the Animatronics There are also a whole bunch of ways to enjoy Disney's incredible animatronics.  From "The Hall of Presidents" to "Muppet Vision 3D," "It's Tough to Be a Bug" and "Carousel of Progress" you can get out of the sun and sit for a few minutes while enjoying the silliness of Disney.  And don't miss One Man's Dream in Hollywood Studios where you can see how he came up with the idea for animatronics and created them. What an incredible man.
Peruse the Stores Believe it or not, every store (and there are a LOT of them) has unique merchandise in it. They are all specific to that area of the park/resort and you will see items in each that you won't find anywhere else in the parks.  It's cool and relaxed in the stores….much less hurry and hustle happening inside than out.
Have a Little Competition There are a few rides that let you shoot and keep score.  Buzz Lightyear's Space Ranger Spin or Toy Story Mania are where you can compete for high scores and earn bragging rights for the rest of the trip.
Find the Slow Rides Even though I love a roller coaster, they do take a lot of time and energy.  On this last trip we stuck to the slow paced rides.  Jungle Cruise is slapstick funny and slow paced.  It's a Small World, Haunted Mansion and Peter Pan's Flight are light and relaxing.  The boat rides like Pirates of the Caribbean and Frozen Ever After are so easy going and fun.  Soarin' is amazing and takes you to the tops of the world's most beautiful places.  Use your Fast Passes to ride the slower rides that still have long wait times.  And once you've used your 3 passes for the day, open the app and grab another one!
Find the REALLY Slow Rides Some rides aren't even like rides they're so slow.  PeopleMover is our favorite place in Magic Kingdom to sit for a while when we are tired; we practically have the script memorized.  There's hardly ever a wait line.  The ride is long, so you get to sit for a while and put your feet up on the seat across from you.  Liberty Square River Boat is usually not crowded and super slow. The Walt Disney World Railroad is one you can stay on as long as you like, so ride it around the park several times if you just want to get off your feet.  In Epcot we like Living with the Land for its slow, relaxed, educational pace and Spaceship Earth is my favorite slow ride there! In Hollywood Studios you can sit for a nice, long time on The Great Movie Ride and enjoy some corny acting skills by your guide.
The World Showcase You can explore cultures of the world by strolling through the back of Epcot.  Go into the shops, taste the snacks, and just let yourself get lost in each individual area. Mexico, China, America, France and Canada all have shows about their countries that are worth seeing and I've been known to catch a little nap in one if it's around 3:00.
Stop and Smell the Roses The landscaping at Disney is absolutely amazing! Look around, pay attention to the plants and flowers and what's going on between the rides.  There is so much to see and so many small details that get overlooked when you're in a hurry.  Every time we go I make James stop and study the little cabin next to a stream in Canada (Epcot) and I tell him, "I want our backyard to look like this."
Enjoy the Architecture Look up! Every building is detailed with some kind of unique structure.  We started looking at the beams….the ends of the beams on all of the buildings and were amazed by how well designed they were for the theme of that area.  The sidewalks, the windows, so many small things you never notice! Just look around and be in awe.
Sit. A. Lot. We aren't young anymore and don't feel the need to be on the move for 12 hours.  We like to relax and just sit.  We will stop in a quick serve restaurant for a drink and just to relax.  Sometimes we find a bench in an out of the way spot (they're there…you just have to look) and sit and talk.  We might share a Mickey Bar and sit in the grass in front of the castle.  We are in no hurry about anything.  That's the beauty of this kind of vacay….it's all right there so you can just relax and stroll from one thing to another.
Watch the Parades and Street Shows All of the parks have pop up shows on the streets.  Just stop and enjoy them! They are done by creative, talented folks who do some terrific performances.  Don't rush past when you see one….you'll be missing the best stuff! And the parades will bring out the kid in you, they're so well done!  My very fave is the JaMMitors, find them….they're fab! And while you're at it, be sure to enjoy a dance party once or twice while you're there.  You can find them on the schedule, sop head over and dance together.  When's the last time you did that?!
People Watch I LOVE to watch people.  I love to see the creative mouse ears and t-shirts and kids hugging their new character dolls. Even the fussing and the whining is enjoyable to watch.  I mean, it's not happening to me and I can use the time to pray for them.  I love to see the dads interacting with their kids and the loaded down strollers and teenagers in the middle of their "I'm just trying to figure out life" mode.  It's always special to watch the people.
Disney Springs You don't have to love shopping to enjoy Disney Springs (although I do enjoy shopping, so hooray!).  There are interesting stores there and it's fun to look around, but there is also entertainment and food and music and being outside without going to a park. We always hit Disney Springs at least once when we visit.  If we take a day off from the parks we will go over there for a movie or just to stroll around.  It's not all Disney merch.  There's a LOT to choose from!
Skip the Early Mornings I know most blogs suggest getting there early and when I am with my kids this is exactly what we do.  But when it's just me and my husband I don't.  I am a morning person and I like to get up and get going, but this is a long day and if we don't care about rushing in to beat a long line then why get there early?  First thing in the morning it's crowded and there are long lines to get in and if you wait an hour you can walk right in without a line.  It saves energy for later in the day and starts off with a relaxed attitude.
See the Fireworks Show at Least Once Even though we like to go to bed early, we always set aside one night to stay late and see the fireworks and castle shows.  Magic Kingdom has THE BEST, but the other parks have late shows too that are worth seeing.  Pick one or two and let yourself get a later start that day and take it slow.
Rent a Car I won't go to Disney without renting a car.  Even though they have a wonderful and generous transportation system, I like to explore and have my own way of getting around.  I will drive from park to park instead of taking the buses.  It's so much easier and more pleasant.  I love driving around the entire resort area and finding little surprises, like the golf courses and a Disney fire station.  There are golf courses and holiday decorations and much more to explore.  I like just building an understanding of where things are in relation to each other that you can't do on the buses.  Plus it gives you a way to go off site and do other things in the area if you want.
Take a Day Off We always add in a day or two that has nothing on the schedule.  No getting up early, no waiting in line, no crowds, just chillin.  We may stay in our room until noon then head to a local spot for lunch or rent a movie or do something easy.  It's nice to do nothing sometimes.
Use the Photopass When I am with the kids I will take a lot of photos, but when it's just me and the hubs I like to relax my picture taking and mostly use the photopass photographers.  They are all around, not just at the entrances and you can get some fun pictures without the hassle of doing it yourself.
Don't Try to Do Everything Think of all of the things you would like to do while you're there then cut the list in half.  Then take off 5 more things.  Now that's better.  There's no reason to wear yourself out trying to do everything.  Just relax and enjoy spending time together instead of rushing from ride to ride and show to show, wearing yourself out.  These alone trips are about the journey, not the destination.  Plan a trip back next year and do some of the other things you missed then!
I hope you'll take a trip with your spouse to Disney World.  These tips would also be great for a girlfriend trip or couples too (we have done a couples trip and it's so much fun!).  It's not just for the young!
Happy Disneying!
If you liked this you'll also love my post about how to do Disney on a Dime, Disney on a Budget, and 9 Things You MUST Have at Disney!