(I am an Invisalign MAB member and my son is receiving complimentary treatment but all opinions completely my own!)
It's graduation time! I have a stack of graduation announcements and invites from friends on my desk just waiting for me to send a card of congratulations.  And then I have my own graduate that we haven't planned anything for yet.  I am way behind the ball on this.
Technically he still has a class he won't finish until the end of summer so I think I was just assuming we would graduate him then.  But then he asks when is his party and I realize I should have planned something.
Last Friday he and I went to the big city together, just the two of us.  We did some graduation planning and made out a part invitation list and made a stop at the ortho for his last Invisalign scan. He is getting his last retainer.  It's almost over (and I am kind of sad about it).  When he started it seemed like we would be having these "dates" forever.
As we pulled out of the orthodontist parking lot he said, "Hey Mom, I am graduating from Invisalign at the same time as high school!"  I told him we weren't having a party for that too.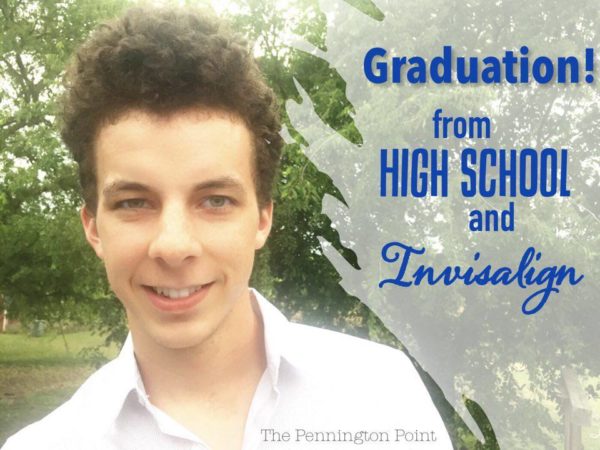 Later, over the weekend, the whole family got into a discussion about Invisalign and braces and who had which and what they liked best.  I love just sitting back and listening to all my kids share talk to each other.  Usually I am surprised at how little listening to me they have done over the years, but this time they seem to have paid attention.
This was the core of our round table discussion on braces vs Invisalign:
Invisalign has changed a lot over the years since we first used them!  This was brought up by my 25 year old son.  He remembers when he got braces and he wanted Invisalign but they wouldn't do what he needed.  A lot has changed in the past 9 years since he got his orthodontic treatment!  Invisalign can do SO much more than they used to and our ortho assured us that Invisalign can do everything we need as we are getting ready for the next child to start.
Are braces cooler than aligners?  My teens who haven't had braces think they might be cool and fun to wear. The ones who had braces corrected that pretty quickly by sharing all of the issues they had that those who used Invisalign never dealt with.  That topic bombed in minutes.  I kinda felt sorry for the child who brought it up.  LOL!
It's not as hard as they thought to take care of the aligners.  This is something you have to deal with when the appliance isn't permanently attached to your teeth.  It's really just a matter of taking them out to eat and brush your teeth.  Then you put them right back in and don't think about it again.  I thought they all would think of that as a negative, but the 3 of mine who have had Invisalign said it was really no big deal.  They liked that they looked normal in photos and could take them out when they wanted to.
Wouldn't braces save money though? Nope.  Each ortho is different, but at ours it's the same price.
What was really funny to me is how they all thought they knew so much more about it than I do.  I wanted to remind them that I have actually been to the Invisalign offices and met with execs and seen how it all works.  I have actually leaned over the mouth of 7 kids and worked with a doctor to get the best results.  I have actually PAID for treatments and do know what it costs.  But I didn't.  I just smiled and then got on the computer to tell all of you.  LOL!

Now that my graduate is wrapping up school AND orthodontic care, I should be excited.  But I will miss those trips together to the orthodontist and I will definitely miss homeschooling him.  It hasn't always been easy, but so worth it!  He will be all handsome and smart and ready to jump into the world while I stand on the porch blowing my nose and waving my hankie.  The kids growing up is hard on old Mom.  But then once they are actually gone and we see how nice it is not to have to be responsible for another person anymore we are happy again.  I am on all sides of that fence these days.
If you're thinking of getting Invisalign, it's easy to find a doctor in your area!
Again, I am an Invisalign MAB member and my son is receiving complimentary treatment.  My opinions are completely my own and I only work with companies whose products I believe in.  Click HERE to read the full disclosure statement.
Here are more posts you will like!
Noah Meets Invisalign
3 Tips for Managing and Using Invisalign Aligners