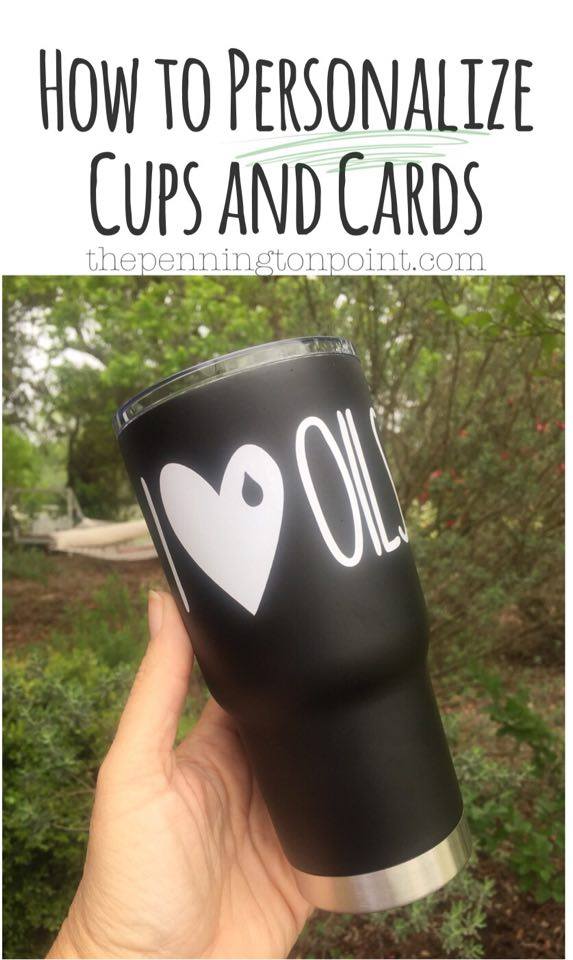 About a month ago, because I wanted to share with you how I made all of the paper wedding flowers, I set up a little spot in a back bedroom to make YouTube videos.  I planned for it to be temporary, but I have really enjoyed making these videos.  It gives me an excuse to create something and then share simple tips for making it easily and affordably.
So instead of taking my setup all down and packing it away, I've just kept on making videos.  I do so many quickie projects these days that I have a line of ideas waiting to be shared.  Last week I showed how I made some personalized things.  Budget friendly and easy are my jam.
I am always looking for ways to personalize things.  I don't know why, but that makes me feel all fancy.  I must have had a childhood experience with seeing a monogrammed pillow and thinking, "I want one of those someday," because I would literally personalize everything I owned if there was a way.  I have an enormous "P" on my front porch as proof that I like to monogram everything (plus I think it's hilarious when I ask someone if they saw the P on my porch….say it out loud….you'll get it).
Recently I customized some stainless steel tumblers.  I love them so much that I am sending them to my new Young Living members who order the Premium Starter Kit (along with a bunch of other goodies).  Seriously, it's my favorite cup ever.  And I have tried a lot of cups.  I used to use a mason jar, but they get sweaty in the summer and they don't keep your drinks cold.  Mama needs a cold drink.  And since I add oils (Slique Essence is my current fave) to all of my water, I have to drink out of either glass or stainless steel (never add oils to plastic drinkware).
It was so hard for me to find a cup because I really don't want it to be a big stinkin' effort to take a drink.  I don't want to unscrew a lid or have a flip top hit me in the face while I drink.  I just want to pick it up and drink it.  That's why I love this cup.  It is easy, it fits in my cup holder in my car AND it keeps my Sonic ice from melting too quickly and nothing hits me in the face.
So of course I had to add my own flair by putting an oil-loving message on the outside.  This one is so cute and I want to send you one!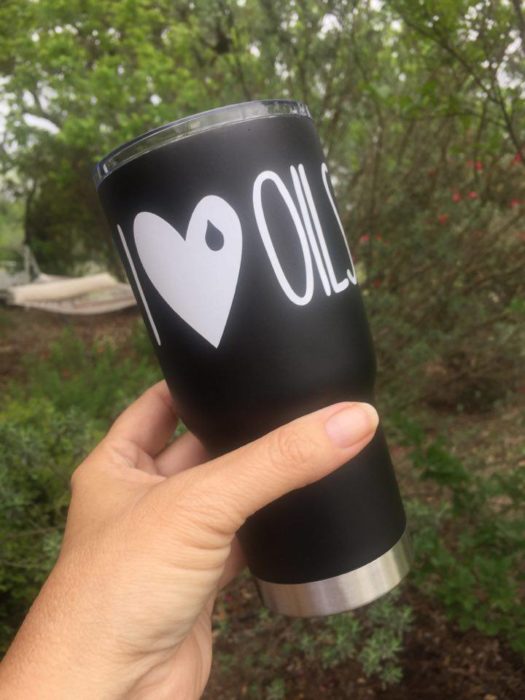 I've had a ton of people asking me where to get them.  Well you can't buy them with these words on them, but I don't want to leave you hangin'.  So I made a video showing how to add the words yourself with your Cricut.  If you don't have a Cricut, find a friend who has one.  Then show them this video and ask them to follow it exactly.  🙂
I also made a stack of notecards.  I love to send gifts and notes to my members and friends.  But who has time to make a homemade card each time you want to send a note?  So I make a bunch at once so I have them ready when I need it!  After you watch how I make them, check out this short Facebook video showing 6 ways I use the cards…
You could use these ideas for anyone you want to send a little sumpthin' to.  It doesn't have to be a business tool.  We all love getting notes in the mail.  Put your name or a fun message on them and start writing notes!
If you use any of these ideas, I'd love to hear how you made it your own. Hop over to Facebook and show me some pictures and share your brilliance!
Be sure to subscribe to my YouTube channel so you don't miss any of the fun!
Video: How to Personalize Your Stainless Steel Tumbler
Video: Make a Card for Your Young Living Team
If you're ready to order your Young Living Premium Starter Kit, I'm ready to send you a package with this cup and lots of other goodies too!  Including a 5ml bottle of Orange oil, some Thieves Hand Purifier and some great books.  CLICK HERE to get started!