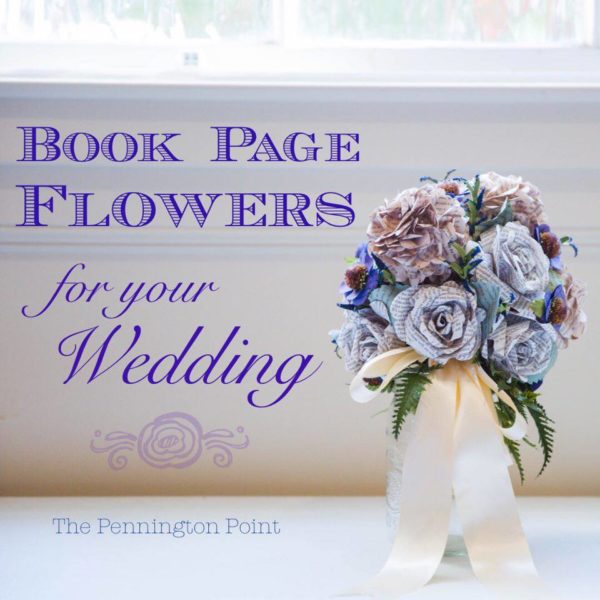 Have I told you that I made all of the flowers for our daughter's wedding?  Like…I made each and every flower out of paper and glue with my own two hands.
When Grace and Wesley got engaged, she told me they wanted a book theme for the wedding.  "Mom," she said, "I was really hoping you could make the flowers for my bouquet out of book pages."  I was excited to try and I really wanted her to have all of her wishes, so I started looking for ideas.  Of course I already knew I could use my beloved Cricut Explore Air™ 2 machine so that gave me confidence too!
I decided, in my naivety, to make ALL of the flowers and not just her bouquet, out of books.  I had no idea that would mean sitting at my dining room table day and night for weeks wondering if the sun was still shining outside.  This was an enormous undertaking, but it was worth every second.  That time spent sitting there making flowers as my family and friends came in and out to help is a sweet memory that will stay with me forever.  We had so many fun conversations and silly moments as we blasted show tunes or praise music….I loved it.
I also really wanted the flowers to look as real as possible, which meant studying actual flowers and not paper flowers.  See how smart I am?  I went to the store and looked at roses and hydrangeas and others to get the feel for them.  I must have googled 1,000 different images so I would have the look imbedded in my mind.  I will dream in the shape of roses for years.
As far as supplies, her colors of blue and purple were my pallet and our low budget was my guide.  There was only a small amount of money in the budget for flowers, but I knew I could make it work with a lot of time, sweat and ordering pizza (I declared that pizza shouldn't have to come out of the wedding budget even though the need for it was caused by the wedding work….we are still in debate about that).
I have probably seen every paper flower tutorial out there at this point.  There is no shortage of them!  And I was impressed and amazed with them all.  But very few of them had the look I was going for, or the low cost.  If you want to buy expensive papers you can really make some unbelievable flowers, but I didn't have the budget and we really wanted book pages.  I just kept trying new things until I figured out exactly what I wanted.
Knowing how hard it was for me to figure this all out,  I didn't want to leave it all in my head.  I mean, maybe there's some other person out there who wants realistic looking book page flowers.  One of you?  Hello? So I am excited to pass along what I learned. Instead of blog posts showing how I made them, I made a video for each flower.  That was a lot easier than me posting 300 photos on a blog post and trying to write it all out.  You wouldn't want that anyway.  I ramble.
Let's start with the bride's bouquet.  She asked for roses, so I made them for her and more!
Her bouquet was completely round, with flowers all the way around.  Being a detail person, I ordered her favorite book, A Tale of Two Cities, and made all of her flowers out of that.  The only parts of the bouquet I didn't make myself was the greenery. I used roses, hydrangeas and little purple flowers that have no name because I just made them up.  I'm calling them "5-petal flowers."  They're similar to anemones I think.
The bridesmaid bouquets were a mix of similar flowers to the bride's, but in different colors.  Their hydrangeas were light purple and the shape of the bouquets were different.  These were one sided and not round.
To top off the realistic effect, I made little sprayers of floral essential oils and spritzed the bouquets.  I used Rose, Jasmine and Geranium.  I love my oils!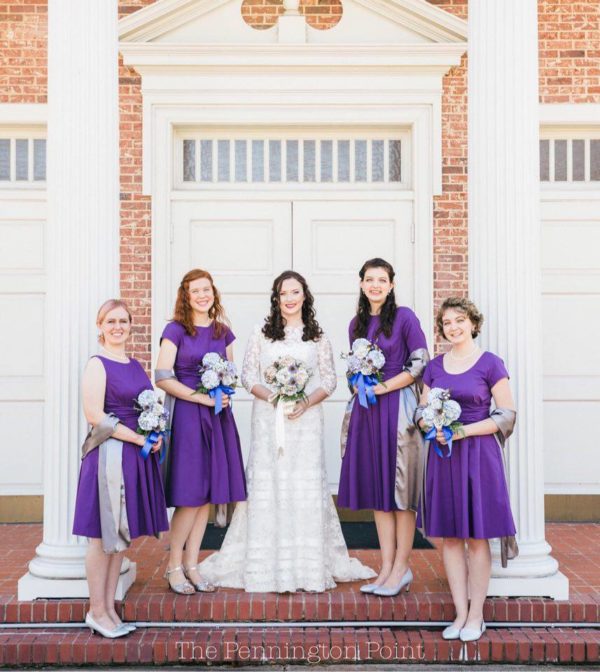 I also made all of the corsages and boutonnieres with book page flowers.  The groom's was a mini version of the bride's bouquet.
It was so sweet to see them all with their flowers that I made.  In this next picture there are prettier things to look at than the flowers, but give them a glance when you're done admiring the bride and groom.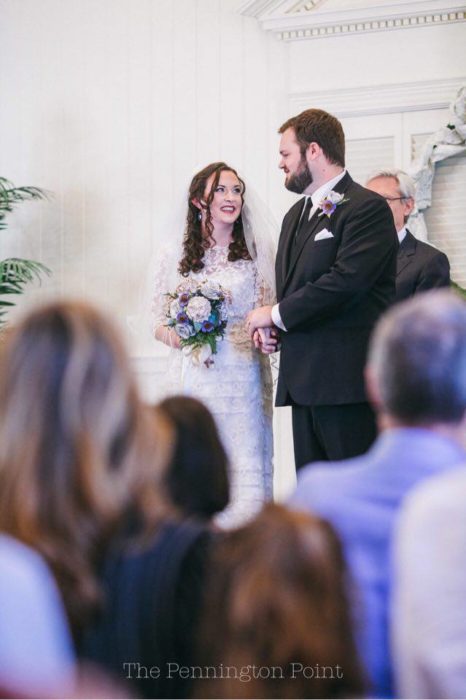 I also made all of the flowers for the reception centerpieces.  Since we served cookies and milk, I went with milk bottles for the tables with a few flowers in them.  To be honest, I would have preferred vases overflowing with flowers, but since each flower was made by hand by me, there just wasn't time.  I was happy with the sweet and simple look, because that's the style of the couple.  They are both so sweet.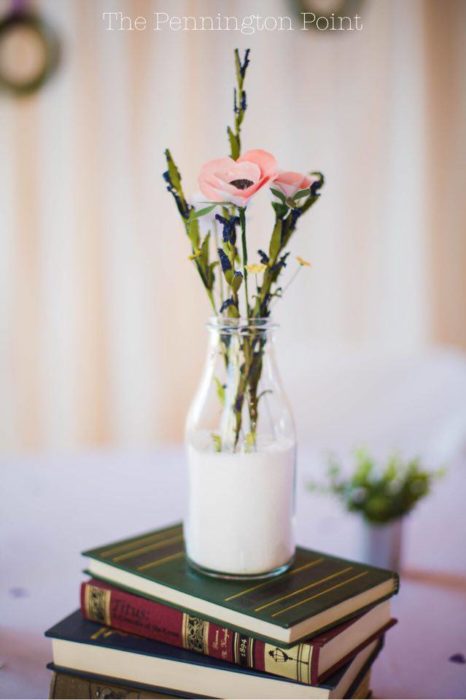 If you're wondering what we used to create the "milk", it was the filling from a neck pillow (teeny Styrofoam balls).  I just cut off the end of the pillow and poured.  To my surprise, one pillow filled 15 vases without even using all of the filling in the pillow.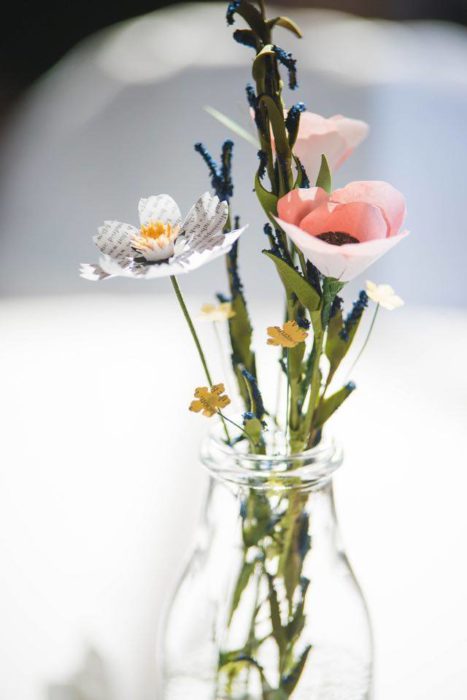 It was such an honor for me that my daughter trusted me with her vision.  She loved the flowers. I think it was just what she dreamed of.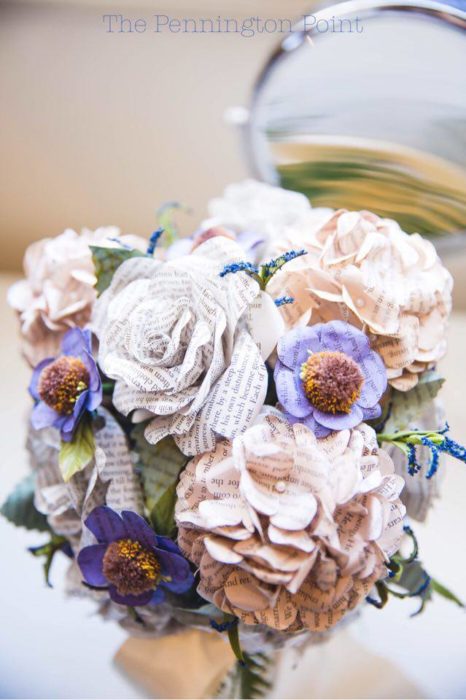 It was fun to come up with ways to add books into the wedding without going overboard with it.  In addition to the flowers, we added lots of little bookish touches.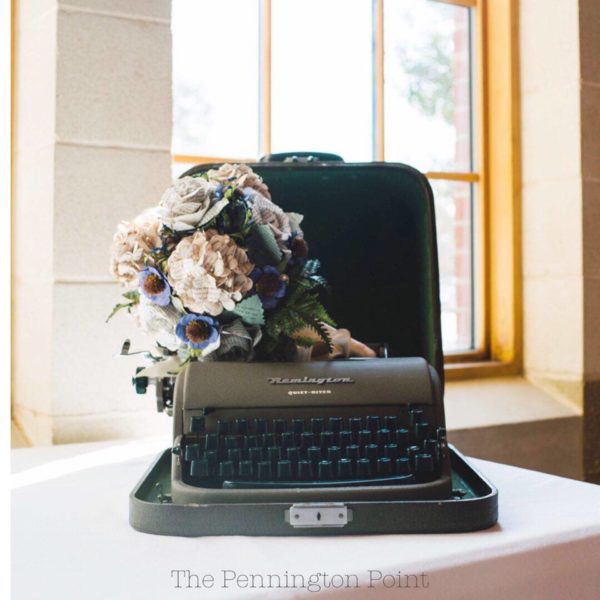 I am so thankful that we have these book page flowers to keep long after the wedding is past.  Grace has her bouquet that she can either keep like it is or we could dissect it and make a flower arrangement.  The bridesmaids all have their lovely bouquets and me….I took all of the centerpieces and gathered them into one bundle and put them in a jar.  It sits in a windowsill at our house.  What a sweet spring reminder of a special day.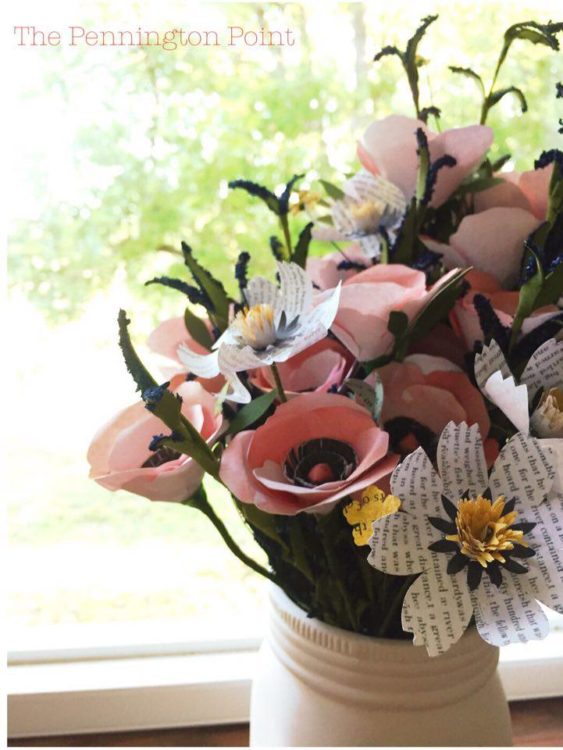 Now I can't leave you without sharing how I made each of these flowers!  Here is everything you need:
Video: How to Make Book Page Hydrangeas
Video: How to Make 5-Petal Flowers with Book Pages
Video: How to Make Paper Poppies
Video: How to Make Tiny, Baby's Breath Type Flowers with Book Pages
Video: How to Add Real Flower Smells to Your Book Page Flowers
Blog post: How to Dye Book Pages
Blog post: How to Make and Use a Wedding Budget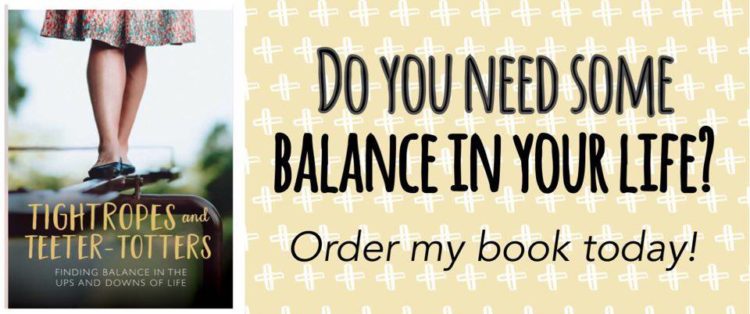 Thanks to GoodBear Media for our gorgeous wedding pictures.  If you're in the Dallas are be sure to check him out!
Are you following me on Facebook?!