Isn't April a beautiful month?!  Here in Texas it's the last chance to enjoy some cool-ish days before the sweltering heat hits and we are stuck inside with the A/C for 5 months.  So I have been outside as much as possible for the past couple of weeks.
I like to go out and work, as in clean up the yard or pull weeds or wash down the outdoor furniture.  The kids don't have the same appreciation for that kind of outdoor fun.  They want to make swords out of sticks and have mock fights for hours.  We do not understand each other.
The good news is we can compromise.  I have them help me work for about half an hour then they can go stab each other all they want.  Just keep that those swords away from Mom.  And my flowers on the front porch.  And the chickens.
Speaking of April, I have a fantastic deal for you this month!  If you've been wishing for some essential oils you are gonna love it!  I really want you to have the oils for the warm weather 'cuz they are so handy during the summer months.  Peppermint, Purification and Lavender alone will make your hot weather experience better.  And they're all in the Premium Starter Kit.
Mmm-Hmm.  You need this.
So I am sending all my new members who order the kit some great gifts for getting through the spring and summer with oils.  I'll send you my favorite stainless steel cup, a bottle of Orange Vitality, Thieves Hand Purifier, a NingXia Nitro and some great resource books to help you get started.  It's a special package.
The Premium Starter Kit has 11 oils (in addition to Peppermint, Purification and Lavender you've got Lemon, Thieves, Copaiba, DiGize, RC, Frankincense, PanAway and StressAway) plus a great diffuser and lots of samples.  Y'all…this is the best way to get started and I will be your support for knowing what to do with them, including adding you to my fun Facebook group where you can ask questions.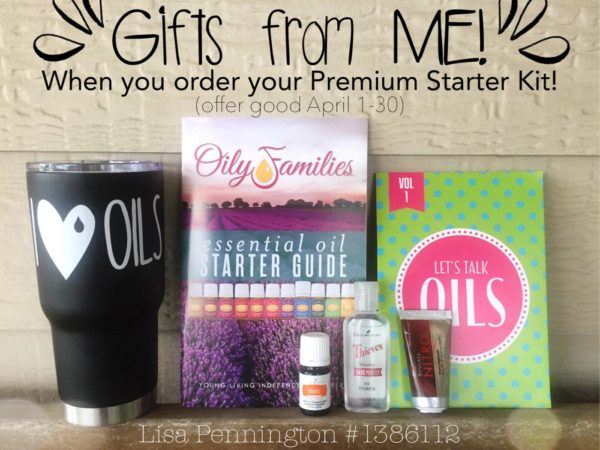 Let me tell you why I love this cup….
You shouldn't ever add essential oils to a drink unless it's in either a glass or stainless steel container. I wanted a cup I can use daily, so I went on a search.  There are stainless steel cups everywhere now, but I am picky.  It needed to be easy to drink from (no unscrewing lids or pop tops that hit me in the face while I drank), fit in my car cup holder, keep my ice cold or my tea hot depending on what I am drinking….it took me a while to find this.  The lid it comes with is only spill-resistant so it will spill a little if knocked over.  But you can buy an extra lid on Amazon to make it spill-proof.  I just haven't needed that.
Then because I love my oils and sharing with my friends, I added the fun saying, "I ♥ Oils".  It's a great way to start a conversation about why you love the oils and help your friends learn more about staying healthy using natural products.  Who knows….maybe you'll start a surprise business! (that's how it happened for me!)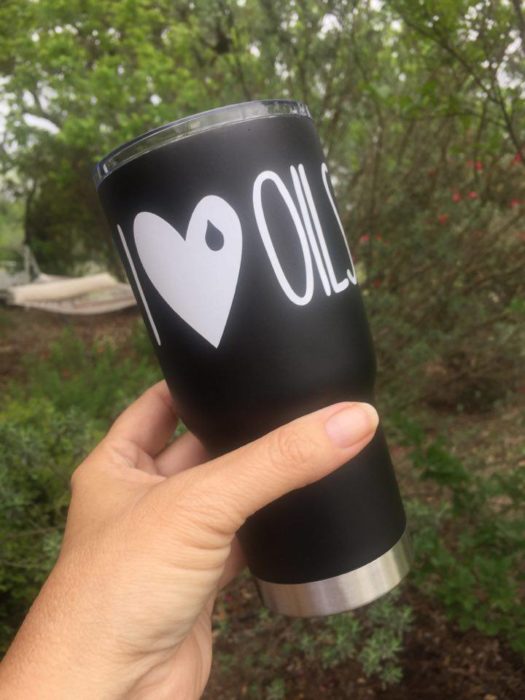 You can add any of your new Vitality oils to your drink (those are the oils in your kit that have the white label) or get my fave….Slique Essence which adds such a great flavor to your water or tea! It's been super helpful while I'm watching what I eat.  I ALWAYS have it in my drink.  If you see me around, you'll see me using my cup like this.
And I'll send you a bottle of orange oil you can use too.  Talk about the feeling of spring!  Oranges are th-bomb.  Try 2 drops of orange with one drop of peppermint in a glass of cold water….yummo!
I want to be clear that just because you are becoming a wholesale member doesn't mean you are committing to sell anything. That's the beauty of Young Living's structure.  Anyone can become a wholesale member and just buy for yourself.  There's a yearly minimum of $50 (50PV by the YL method) and that's it.  Easy!  Plus, if you decide later to share with your friends and they want to sign up, you are already set up to build a business and I will help you with that too, if you want.  There's ZERO pressure to do that though….seriously…..just enjoy the oils!
If you have any questions, feel free to email me.  I'm love supporting my members!  Once you place your order I'll send you your free gift.
Happy spring!