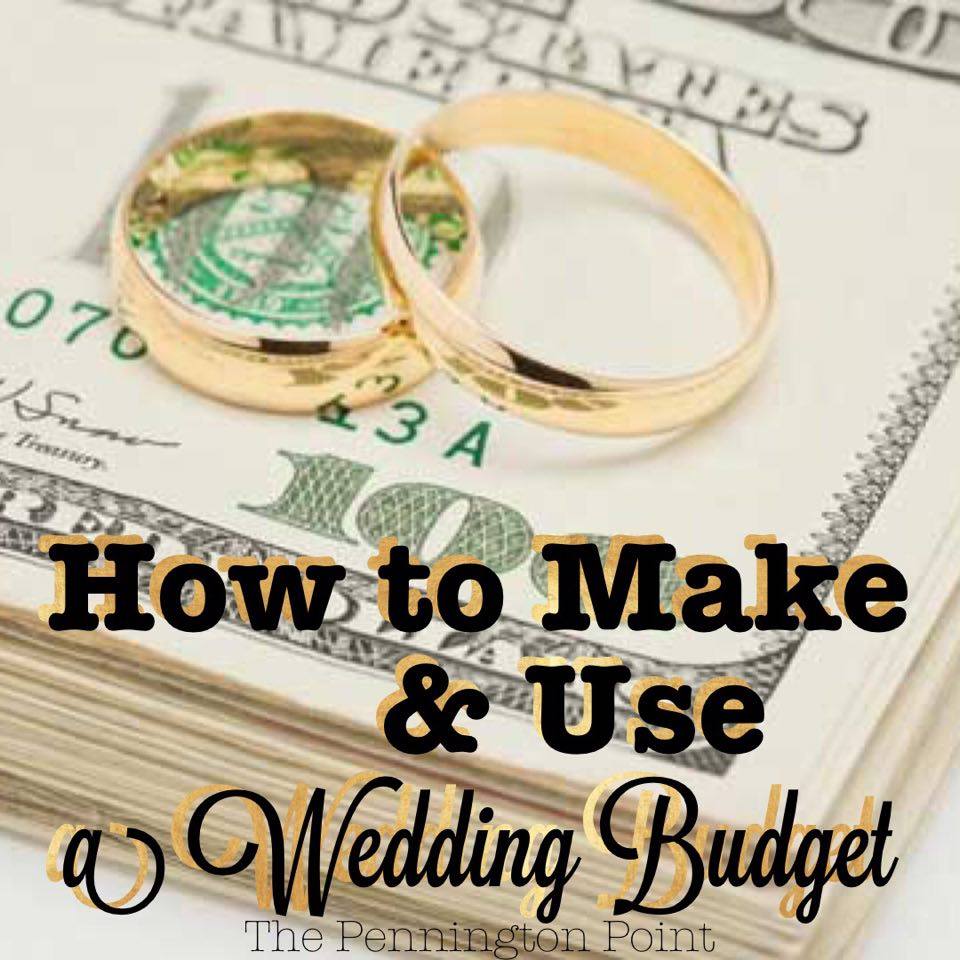 If you haven't heard….we are planning a wedding!  Our oldest daughter is getting married in 44 days and we are in full wedding mode around here.
Our ceremony & reception will take place 6 hours from where we live.  There are challenges to planning a distance wedding.  Not to be mistaken for a destination wedding, which sounds pretty dreamy right about now.  I am planning not only the decorations, clothing and flowers, but how to transport it all in the back of my car to a far away location.
I can't give you any details yet about colors or décor because we don't want to spoil anything for our guests, but I can share how we are using our budget as our guide.  It's been so helpful to have the amounts to use for planning, even if it does feel limiting sometimes.
Honestly, I am shocked by what people spend on weddings these days.  Did you know that the average wedding in the US last year cost over $26,000?!  WHAT?!?!  I don't know about you, but we aren't those people.  We can't spend nearly that much, but I really don't think we would if we could.  It's not our style.  We are simple people with down-home preferences.
Budgeting doesn't come naturally to me.  I think of money as being in a big pile that I can just pull from until it's gone.  My husband, however, is a different kind of animal.  He is a CPA and a tax attorney who, if you don't mind me getting personal, would probably find me even more attractive if I wrapped myself in spreadsheets and balanced bank statements.  He likes our money to stay orderly and wants me to keep and account for every receipt.  So budgeting is something I have learned to appreciate from his wisdom and passion in this area.
We came up with our total amount to spend on the wedding based on 3 things…
How much money we have
What we want to do for the wedding
What we can spend on all future weddings
That third point is important because, having 9 children, this is something we will probably have to do again.  And again.  Even though only 4 of our children are girls, we can't assume we won't be paying for any of the boys' weddings.  I have several friends whose sons have married girls who, for one reason or another, didn't have families that could pay for a wedding.  We want to be prepared for anything.
So we took those 3 numbers and stirred them around and had several meetings where I may have cried a little.  It's hard when you break it down and realize that you'll be spending so much money on a single day that, no matter how much you spend, won't fill all of your dreams.  Reality has to step in at some point and slap you around a little.
Once we had the total amount we would spend, we took the average percentages (I share those averages below) and applied that to our number.  For example, the wedding attire/personal beauty averages 9% of your budget.  So if you are spending a total of $5,000 then you have $450 for the attire.  Keep in mind that has to include dress, veil, shoes, jewelry, hair & makeup.
That may not seem like much when you start looking around at prices, but it is doable!  We are using a free dress and adding our own touches to it.  We got a damaged veil at a wedding resale shop, but it was easily repairable for just $8 at the fabric store.
Having our list of what we can spend in each area is VERY helpful to keep us on track and remind us what our limits are.  And we are firm, no going over budget.  If the couple decides they want to go over in one area then something has to get cut in another.
These are the average percentages (from brides.com).  Of course, every wedding and every couple are different so some of these items will be different and some won't even be a part of every wedding!  (like, we won't have any live music so there will be almost no expenses for that)
Venue – 45%
Photography – 12%
Attire/Beauty – 9%
Music – 6%
Rings – 6%
Flowers – 5%
Favors and Gifts – 5%
Transportation – 3%
Stationary – 3%
Cake – 2%
Décor – 2%
Misc – 2%
Now, if you have a $2,000 budget, according to these percentages, that only leaves $40 for décor.  Um, that won't work for me.  But decorations are something that are important to me, so we shifted the numbers to give me more to spend on that.  We didn't include rings or transportation in our budget, so that frees up some money.  Just keep working at it until you get it as close as you can.  Then be content with what you have.  You can be creative with it!
Next, every time you spend ANYTHING on the wedding, put it on the list and keep up with it.  That will help you stay on track and not go into debt over this.  Weddings are important, but not worth paying off for years afterward.
My philosophy is that only using what money we actually have is a true representation of who we are.  You don't need to be fake by borrowing money for a wedding….be yourself!  If you can only afford $500 then that's who you are and you can make it great!
Don't compare yourself to others.  One of our daughters is a photographer and attends a lot of weddings.  She comes home with stories of endless shrimp buffets and orchestras and honeymoons in Paris.  One wedding she went to recently included little earmuffs for the children who didn't like the noise at the reception.  Yeah…..we don't have that in our budget.  The kids at our wedding will just have to live in decibel misery.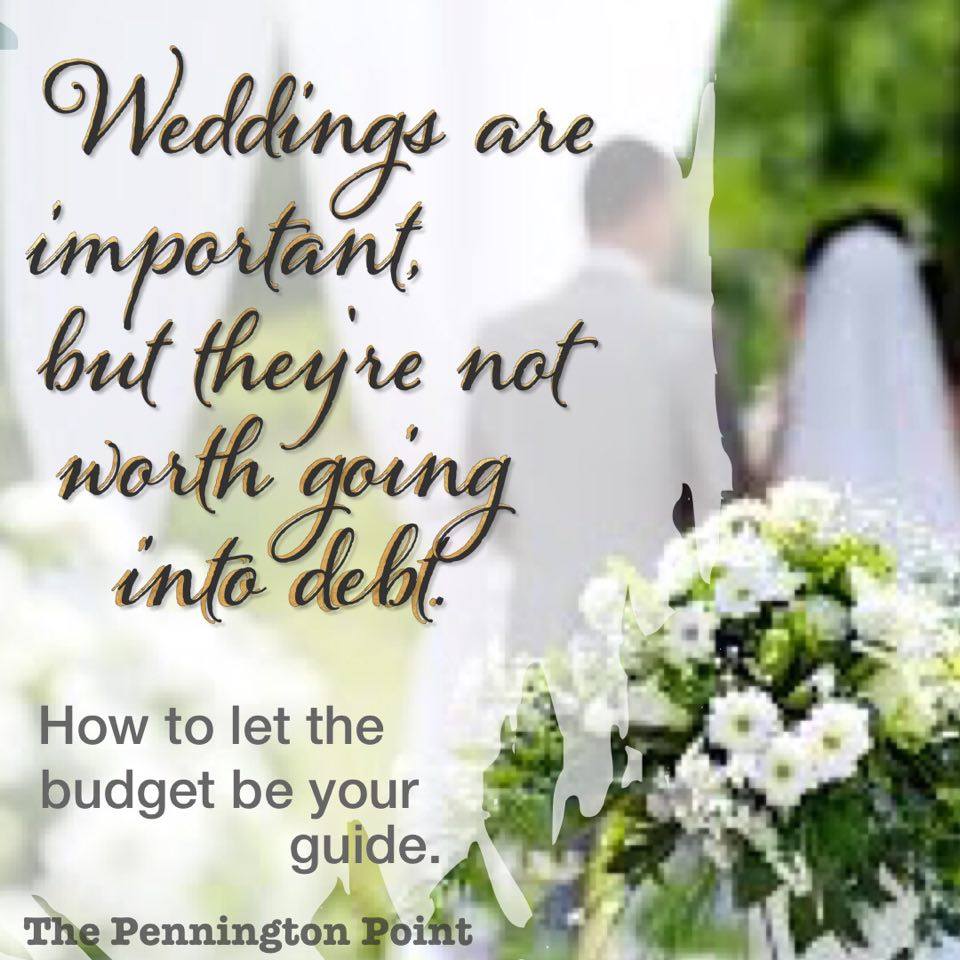 It has been so helpful to have these numbers as we shop for the things we need and make decisions.  We made our own invitations (well, we designed them and had them printed) to keep the cost down.  If you're not a designer, ask a friend who's good at that.  We are doing some borrowing and some trading….that helps the budget too!
And if you're not the DIY type, don't mess with that.  I love it….making stuff myself.  So it fits with who we are.  If who you are is a cake from Costco and balloons….do it!  If who you are is someone who values toddler ear protectors then get some!
In the end the wedding décor, clothing, flowers, cake and tablecloths are just the extra parts.  It's about beginning a life together and putting Christ at the center.  No amount of fancy music and flowers means anything if it takes the focus away from the real purpose of the day….to join one man and one woman in holy matrimony.
If you're planning a wedding, keep checking back or follow me on Facebook.  I'll be sharing tips and ideas for budget weddings many times over the next few months.
Thanks for stopping by!