This post contains affiliate links.
There are so many stores and sales and options to choose from when it comes to gift giving.  But I like to give things that are unique and not just what you can get at the local superstore.  So all year long as I discover new things and try them, I keep a list in my phone.  Then when Christmas shopping comes along I have a whole list of ideas to use and share with you! These are all things I use myself and would want again.  That's my test of a great gift….if I love it myself.
So without any further adieu, here are my 2016 top 12 gift ideas.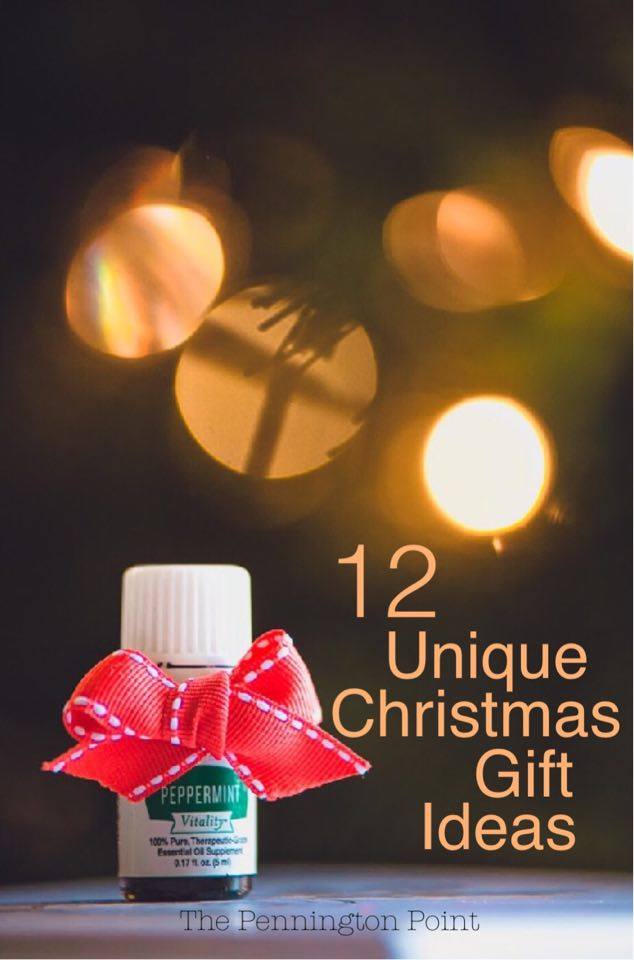 Oils.  You know I can't make a gift list without putting Young Living essential oils on it.  I believe that every home needs to have these.  As the medical community shifts and the economy changes, we all need to equip ourselves with natural, healthy products to help us stay well.  Get a Premium Starter Kit for yourself (you need them most of all!) and another to divide up and give to friends.  And when you sign up through me I send you a package of goodies to help get you started!
Stainless Steel Tumbler. I carry mine with me everywhere so I made sure to find one that does everything I want.  I don't like to have to unscrew the lid every time I want a drink, so this one has a lid you can sip through (it isn't spill proof, but it is splashproof).  It has to fit in my car's cup holder and I also love the removable handle you can add on.  I only drink from stainless steel or glass (but SS is lighter and easier to travel with) so I can be sure no toxins are leeching into my drink and I can add my peppermint, lime or Slique oil to it.  I used my Cricut to add my name to it.

Car Wash.  I have a new obsession with washing my car.  Last summer I discovered a local car wash that you drive through then do your own vacuuming (which is free).  This is the best of both worlds for me because I was never really happy with the job they did at the full service place.  I pay a monthly fee ($11.99) and I can have my car washed as much as once per day if I want.  This makes me so happy.  Look for one in your area and gift a few months to someone!
Noise Cancelling Headphones.  These are expensive and it may seem crazy to spend this much on headphones, but I want to give a strong recommendation for them.  I got some a couple of years ago to help me concentrate when I was writing my book.  And it was the best money I ever overspent.  I use them constantly and when I travel they are a lifesaver.  When I travel I sleep with them on….they're that comfortable.  I use them at home, on planes, I lend them to the kids when they need quiet….it's pretty amazing.  The ones I have are not wireless, so I am not-so-subtly adding this wireless pair to my list in case my husband reads it (hint-hint).
Books.  Speaking of writing my book…it's a great gift for every mom on your list who needs a boost of encouragement.  "Mama Needs a Do-Over" is a light, fun read with practical tips for turning a hard day around. And with my next book, "Tightropes and Teeter-Totters: Finding Balance in the Ups and Downs of Life" in pre-order, you could even give the set….one now and one to arrive February 1!

Travel Jacket. I got this jacket a few months ago and LOVE it.  It's made with the traveler in mind, but I will use it constantly on the home front too.  It has a pocket for everything.  I didn't even take a purse with me on my trip to Idaho a few weeks ago, but just used the jacket.  You can get the liner or wear it without.  You can remove the sleeves, the hood, there are a ton of different ways to use it.  This is great for the adventurer on your list!  It's also from a small business.  I'm so proud of those people who get an idea and make it happen!
Thieves Cleaner.  I really need to do a whole post on how we have eliminated toxic cleaners from our home and only use natural products.  It has made a huge difference in our health.  It may seem odd to give cleaners for a Christmas gift, but not this cleaner because it's so great (and a very affordable gift)!  Get a few spray bottles and divide a 14.4 oz concentrated bottle into 6-8 gifts!  I like to include a note card with all of the uses for this amazing product!
Dryer Balls and Norwex Cloths.  In keeping with the toxic-free home idea, we also love these two things for cleaning.  They can be used alone or with a drop or two of essential oils added to them.
Sugar-Free Chocolate. I discovered these a couple of years ago and they are perfect for my sugar-free cravings!  I can break off a square and nibble on it with no guilt.  If you love someone who needs to stay away from sugar, these are yummo!  They're pricey, so you could divide the box into several gifts and keep a few for yourself.
Planner. For the organized person on your list (or better yet….for the UN-organized!) how about a planner?  This is my absolute favorite one!!  It's spiral bound, easy to carry and it is very well thought out.  This is another small business that I love supporting.  In fact, I love these planners so much that I got to go sit with the designer and design one specifically for Young Living business builders.  She also has them for other direct sales companies so check out her site!  I'm recommending them for all my Young Living friends.

T-Shirt. My teenage daughter LOVES these shirts from Here Below.  They are soft and comfy and unique.  My oldest son wears them too….they really work for anyone on your list and they have lots of different styles.  Another family business you can support.
A trip to the Winter Summit!  In case you haven't heard of it….the Summit is an AMAZING weekend for tired moms to renew their strength.  It's in January in Oklahoma and February in Texas, but even if you live far from there it's worth flying in.  This is something that you will not regret.  Here's a post I wrote about it last year…I promise you will love it!  And you can use my code: Penning10 for $10 off!!!  Ask for it for yourself or gift it to a friend.  I'll be there too!
I hope these ideas help you find something unique to give this year.  I will be using several of these ideas for those on my gift list.  If you have other unique ideas hop over to my Facebook page and share them with us!
Have a great December!