This post contains affiliate links.
Last summer I went to Universal Studios Orlando with 4 of my kids.  Ever since then I have been a ginormous fan of that place.  Like, anytime I hear of someone going to Orlando for Disney I say, "Oh!! You HAVE to go to Universal too!!!!!!!!" (there aren't enough explanation marks, but I didn't want to get obnoxious).
I am thrilled that this September we are going back and in addition to 4 kids, my husband is going with us (he didn't go last year).  Honestly, he has heard so much about our trip that I think he couldn't resist.  We basically have not stopped talking about it.  Every few days we will all be sitting around chatting about nothing in particular and one of us will say, "Hey!  Remember at Universal when ____?!" and the 5 of us who were there will laugh and start to talk about it more and we are all laughing and smiling and those who didn't go roll their eyes because they are tired of hearing about it.  Yep, good times.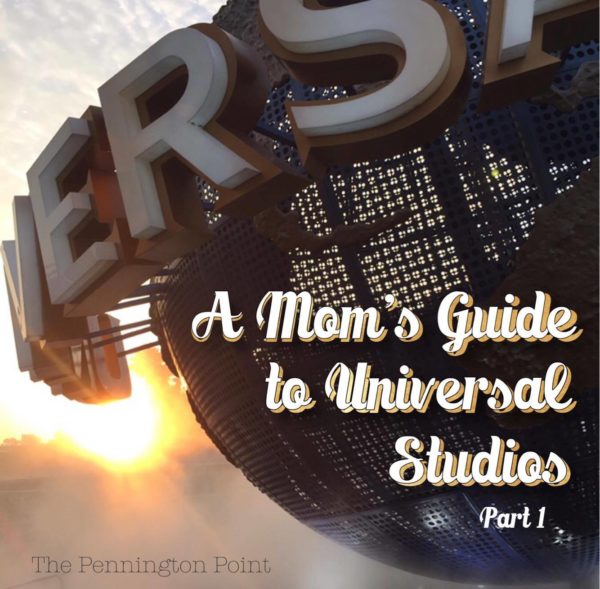 But even though the Universal parks are awesomely fun and exciting, there are some things you can do to make your visit even better. You need to be prepared.  Not the kids, they don't need to be prepared.  The kids can just wake up and ride in the back of the minivan to the airport and follow you wherever you go.  But for moms it's a different story.  We gotta pack and plan meals and make sure everyone in the family has what they need.  It's a much tougher job than it looks when you're a kid.
Being a mom of 9, I know how hard it can be to travel with the family.  There is so much to check on at the last minute and so many teeny details that it can make your head spin.  I like to have my ducks in a row as much as possible when going somewhere like Universal because once I get there it makes my time so much more relaxing.  I mean, let's face it, there WILL be problems.  Someone will lose a toy or drop their ice cream on the ground and you have to handle it.  But you can make it easier on yourself by being prepared for the issues that you know will come up.  That's why I wrote this list, for the moms.
But as I worked on this list it got so long because I have so many tips, that I decided to break it into two parts.  I mean, we're moms here.  Ain't nobody got time to read a 4,000 word blog post.  So part 1 is about what to do while you are there and part 2 is what to take with you.  Easy.
This is part 1 (which you probably already figured out 'cuz you're so smart).  There is a LOT that you don't want to miss and I am making it my mission to help you.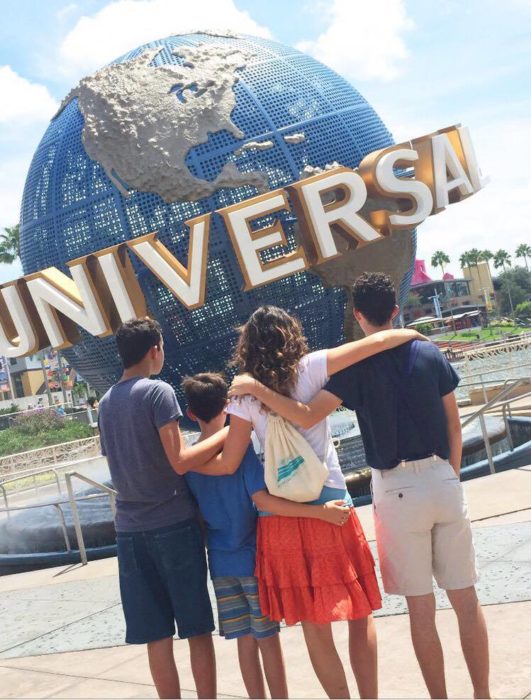 A Mom's Guide to Universal Studios – What to Do
Use the app.

  The Universal Studios app is fantastic for keeping up with wait times, restaurants, showtimes, shop hours and more.  This will save you time when you're hungry or late (or both).

Study the map.

  In the app or on the web you can look at the maps of the parks and surrounding areas.  It's good to familiarize yourself with where the restrooms are, what rides are close to each other, which are in the front of the parks and the back.  Also, in case it isn't clear, there are TWO separate parks, Universal Studios and Universal Islands of Adventure.  You could buy a ticket to only one if you want, so do all of your research beforehand.  If you have kids who like maps, give it to them to study.  This makes it so much easier to get around the parks from the beginning.  I'll be refreshing my memory of the maps as we get closer to our trip.

Make a meal budget.

  Look over the menus of the various restaurants in the Universal area and see what you like.  Plan how much you can spend and know where you have to go to keep within that amount.  OR you can purchase a dining plan which makes it so easy!  You can also bring your own snacks and water bottles with you if you want.

Understand the locker system.

  OK, this took me time to appreciate, but once I got it I really liked it!  On the thrill rides you can't carry anything, and I mean anything, with you on the ride.  So they provide free lockers at the beginning of the lines for you to store your stuff.  They open and close using your fingerprints, so your items are safe.  The first few times I walked right past the lockers thinking I didn't want to deal with that.  But stuff easily gets lost on these rides y'all (ask me how I know)!  And once I embraced the locker system I saw how freeing it was!  No more worrying about anything on the ride….just lock it up and be free! In order to remember which locker we used, I made it a habit to go to the very back of the locker area every time instead of stopping at the first available kiosk.  That way I didn't have to remember the area my locker was in.  And once our things were in a locker (you don't get to choose your locker number so you have to remember), I would tell all of the kids our locker number and we would make up something to remember it (OK kids, our locker is number 173, like the highway near our house or number 42 like there are 4 wheels on a car and two people can sit in the front).  If I said it out loud we could remember the number when we got out.  Rides that have these lockers are: Hollywood Rip Ride Rocket, Revenge of the Mummy, Men in Black Alien Attack, Escape from the Gringotts, The Incredible Hulk Coaster, The Forbidden Journey (this is my favorite ride) and Dragon Challenge.

Understand the child swap system.

  Universal has this FAB way to ride when you have small children.  There is an area at the end of the lines where you can sit and wait with a child.  So mom and dad can go through the line with the kids, then one person rides while the other waits right there in a little room off to the side and when the first person is finished riding they slip into the waiting area and the other can ride.  It's awesome!

You can also do a bag swap.

  So, if you don't want to use the lockers or you're carrying something too big to fit in there (please don't bring big things, it will hinder your fun!) you can do the child swap plan except with bags.  You don't have to have kids with you to use the child swap area, so just take turns holding your stuff.

Stay hydrated.

  Whatever you do, keep the water flowing.  There are plenty of restrooms and places to stop and refill.  I love to carry a bottle holder like this one so it's easily by my side with my small stainless steel water bottle.  This makes it easy to take a sip frequently and it's easy to handle on the rides that don't have lockers.  Stainless steel so I can add my essential oils which help a ton!  I also love this strap that keeps the kids in a stroller from losing their cups!  Buh-rilliant.

Have a "Must-Ride" list.

  Before we even left home we read through the list and descriptions of rides and watched some YouTube videos.  We let each person choose one that they absolutely had to ride.  We made sure those rides got done on the first day so we didn't miss out on them.  Now that we have been there once, it's going to be even harder to choose because we love them all!!!

Get the Express Pass

.  This y'all, made such a huge difference in our time there!  This is a special pass that lets you go through a shorter line on many of the rides (not all of them though).  Because we were staying in one of the gorgeous resorts, we got Universal Express Unlimited Passes AND an extra hour early in the Wizarding World of Harry Potter (This is a perk of staying onsite!).  With these passes you can use it all day that you're staying in a resort.  If you don't stay at a resort and instead purchase a pass it's a little different.  Those are called Universal Express Pass which lets you use it one time per ride per day. There are some rides that don't have Express Pass lanes.  These are: Escape from Gringotts, Hogwarts Express, Twirl 'N Hurl, the Forbidden Journey, and Pteranodon Flyers.  But don't worry, the lines in these rides have some really COOL stuff to look at and they keep you entertained.  Well, I'm not sure about that for the Twirl 'N Hurl because I would never ride that…..I nearly hurl just thinking about it.  Also, if you want to speed up your wait time you can also go through the singles line.  This means you won't be riding with your people, but filling in blank spaces with other people.  The rides that have single lines are: Escape from Gringotts, Rip Ride Rocket, Men in Black, Revenge of the Mummy, Transformers, Spider-Man, Dr Doom's Fearfall, and the Forbidden Journey.

Explore outside the parks

.  There's a great shopping, walking, eating, entertainment area right outside of the parks called City Walk.  We really enjoyed walking around there while we were at Universal and plan to go to City Walk several times on our next trip.  I love how close together it all is so there is no waiting for buses or lines.  You can just walk out and stroll around.  We ate dinner a few times at the restaurants in City Walk and the food was outstanding.  You can also walk over to the resorts and check them out, or ride the boats over.  We took some time to explore each of the resorts and that was fun!

Try everything.

  There are some things that are totally unique to Universal and if you don't try them you'll miss out!–Butterbeer – This drink is only available in the Wizarding World of Harry Potter (which is at the back of both parks) and you have to at least try it!  Our family had various reviews of it, but we all thought it was very interesting.  A couple of the kids were crazy about it.  You can even get Butterbeer ice cream in Diagon Alley.
–Pumpkin Juice- We tried this too (we tried everything we could!) and it was also super yummy.
–Fishy Green Ale- This bizarre looking green drink is interesting.  Actually, I really liked it, but it's something you have to try for yourself.
–Using a wand- We went to the wand shop and chose a wand (or did it choose us?) so the boys could experience the extra cool feature in both Harry Potter worlds.  There are places all around that, if you have a wand, you can do a spell.  My mom-tip for this is to go online and study how the wands work because it's not as easy as I think it should be, especially considering it's something children will be doing.  It took us a long time to figure out how to make the spells work.  But we will definitely return with wand in hand to do it all again!
–Moaning Myrtle- Don't miss a stop in the Public Conveniences in Hogsmeade to hear her moaning.  It's hilarious.
–Hogwarts Express- You can move between the two parks by either going out the front entrance and taking a very short walk to the other, OR by riding the train in the back of the parks.  This is an experience all in itself and we rode it several times and never did catch all of the amazing details.  I was so impressed with the train station that I made the picture my computer screen saver.  No, my screen saver is not a picture of my kids, or my puppy, or my front porch that I love, but the train station at Universal.  That's how cool it is.


Last but not least, have fun!

  Just because you're the super-mom, trip-organizer, kid-catcher, clothes-washer, wand-carrier, meal-planner and stroller-pusher doesn't mean you can't have a ton of fun.  Stop and do a few things you want to do.  Ride the rides, explore the parks, have a Butterbeer and relax.  I'm going to ride the Forbidden Journey like a juvenile and swing my legs and get kid-excited.  I'll try to shoot all of the aliens on Men in Black and skip around through Seussland.  Just because you're the grown up doesn't mean you can't act like a kid.  Let yourself enjoy it, even if that means swapping off with your husband for an hour to yourself to do anything you want.
I really can't wait to get back to Universal in September and see it all again.  I hope you will put it on your calendar as something you must do soon!
Hop over to Part 2….things you must take with you!