This post contains affiliate links.
I just got home from a marvelous, magical Disney vacation.  My husband and I went for a week….no kids.  My BFF and her husband went also, but we only hung out together a few times, mostly it was just my husband and I.  Disney isn't just for kids, my friend.  There's a LOT to do for grownups.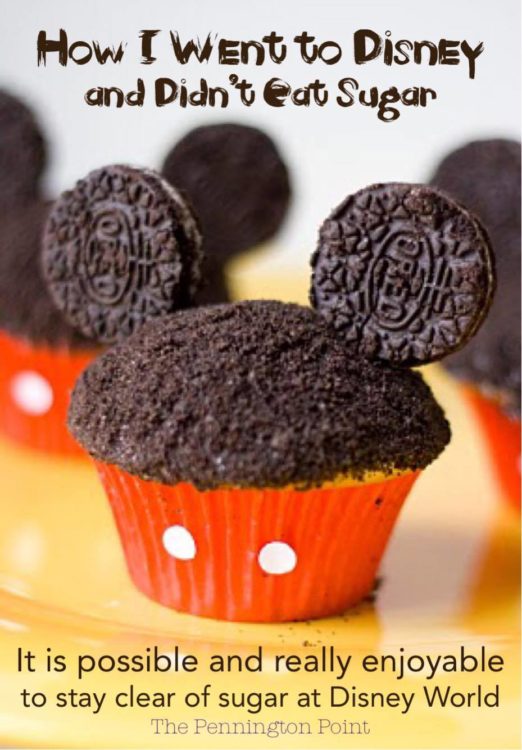 There's also a lot to eat.  Like, a LOT.  We did the Disney Dining Plan, which means each day we had one sit down restaurant meal, one quick service meal and one snack.  Both daily meals come with a drink, entrée and dessert.  I am telling you, if you're not careful you can spend the whole time just rolling around like a over-inflated tire feeling ill from overeating.
I made a promise to myself a couple of months ago to remove sugar from my diet.  Well, I actually removed a LOT of things, but sugar is one that I determined not to add back in even when I was on vacation.  This, when you are getting three desserts per day, is not an easy task!  But I did it…..I went the entire week without eating sugar.  I told myself that I could have one sugar dessert the entire trip, which I chose carefully.  I had an ice cream cone on the last day of our vacation at my favorite ice cream shop in Disney Springs, Ghirardelli.  That's it.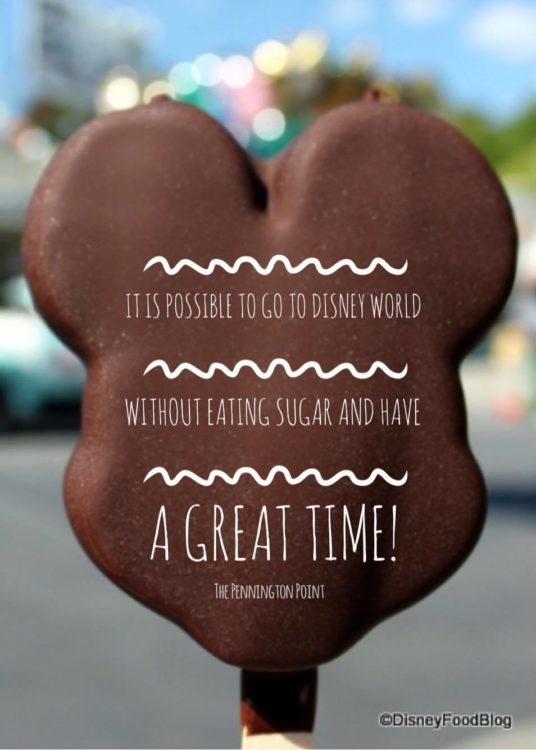 If you're wondering how I did it….I want to tell you.  But first let me express WHY this made my vacation so much better than any Disney trip I have taken before.
I never got a post-sugar crash.  That lovely high you feel when eating a sweet treat, there's always a crash that comes after.  But because I didn't eat the sugar, I didn't have any big lows.  That was really nice.  It definitely helped me keep my energy levels up and at Disney you need a lot of energy, even when you're there with only slow-poke grownups.
My good mood was easy!  I tend to get very grumpy when I eat a lot of sugar.  I kept that in mind as I made my food choices because I was enjoying my easy, joyful moods and I knew if I ate much sugar I would start to struggle to stay cheerful.  I still had a few of my normal ups and downs, but overall I found it SO much easier to get over things and relax.
I didn't gain 10 pounds.  I did gain a little, I mean, it's not like I fasted!  Since I cut wheat, dairy, corn, potatoes and more out of my diet a few months ago, I knew I wouldn't be able to stay away from all of that.  I was definitely eating things that my body wasn't used to.  I tried to order salad as much as possible, but occasionally I'd just get a burger.  I would eat the meat without the bun or only a little of the fries.  I never felt stuffed (except for this one steak meal that I ate like a pig).  I did gain a little weight from the trip, but nothing like the times when I have just had a sugar-free-for-all.
I proved something to myself.  Honestly, I am not super strong when it comes to staying away from sweets.  I definitely have issues.  I kept telling myself that I could do it and thinking about how great I would feel knowing I did this very hard thing.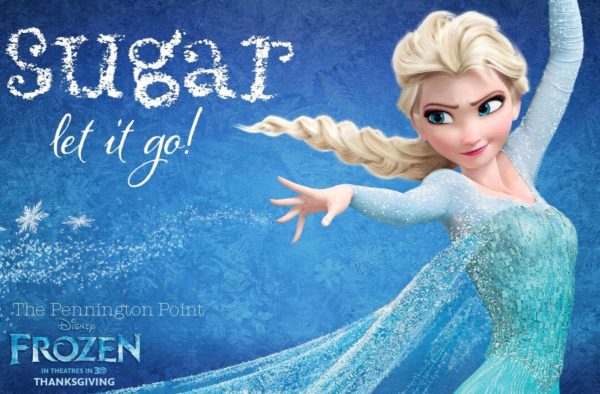 Interestingly, it got easier as the trip went along and as I found ways to get around the treats that came with my daily plan.  Here are the things I did to avoid the sugar and not feel deprived.  I mean, everywhere you look there's someone eating a Mickey shaped ice cream bar or an apple on a stick covered in candy.  I had to make sure I was feeling treated and enjoying some snacks without the sugar.
I read through the dining plan and discovered that for the quick meals it's not actually "1 drink, 1 entrée, 1 dessert".  It's an entrée with 2 "snacks".  In other words, you can substitute the dessert for anything that restaurant considers a snack!  So I would get my entrée with 2 water bottles.  I'd drink one with my meal and have the extra water to carry around the park with me afterward.  A couple of my restaurants had sparkling water so I would get that as my drink for a carbonated treat.
I found snacks that weren't sugary.  There are not a lot of non-sugar snacks, but they are around if you keep your eye out.  At some kiosks/restaurants you can get fruit, popcorn, pretzels, hummus cups, even a bagel or hot tea.  Also, the gift shops have candy that you can use as a snack option and so I used the snacks I had left on my account (I only used a few of my snacks credits the entire time) to get fun treats to bring home to the kids.  There's a beautiful candy shop at the front of Magic Kingdom where you can get some darling take home gifts with your snack credits.
I carried snacks with me.  Disney doesn't care if you bring food into the parks, so don't be nervous about it.  You don't have to bury them under feminine products for the bag check.  It's totally fine to bring snacks in.  So I carried nuts and my little GF-sugar-free crackers and ate them when I felt a need for an energy boost.
I drank a LOT of water.  Did you know that any place they serve drinks will give you a free cup of ice water?  I made sure to keep myself hydrated.  The free cups are really small so I would just ask for 2 or 3.  That helped me not get as many cravings.  I carried a small stainless steel bottle that I could pour the ice water in and add a few drops of essential oils (like Slique, lemon or peppermint) and that felt like a cool treat!In choosing a water bottle, here are some things to look for (THIS is the one I use).  Trust Aunt Lisa, I learned from my mistakes.  You want your bottle to be insulated.  A non-insulated one will sweat and make the things in your pack get all wet and ruin your little package of Bandaids and your receipts, which your CPA husband might want, hypothetically.  You'll need it to have an easy to use lid so you can take a sip while you're walking in case the people you're with won't slow down even if you're painfully thirsty.  Lastly, I ordered some of THESE holders so you don't even have to put it in your pack if you don't want to.  We will be using these for all the boys in September when we go to Universal!
Speaking of adding oils to water, I carried 5 of them with me to the parks every day.  My Young Living oils make me feel like a princess.  I know it's silly, but if you're at Disney you are supposed to feel like a princess even if you're in your 50s. They don't talk much about it in the movies, but Cinderella had to get old at some point, right?  I mean, what does "happily ever after mean if not turning 50 and gaining weight?!  My oils are such a blessing and they are so precious to me because I can feel God's love for me through them that it makes me feel spoiled to have them.  Here's what I carried: peppermint, StressAway, lime, PanAway and FUN.  (yes, there's an oil called FUN!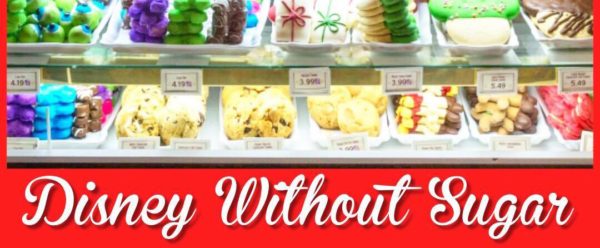 Now, I did have my one sugar treat on the last day and I have to say, it didn't live up to my week long anticipation.  It tasted good, but after I ate it I wished I hadn't.  It is such a momentary pleasure with long term consequences.  I felt sluggish for a while after that and didn't want any more sugar.  So, when I ever go back I won't even do that.  I will just enjoy the other great foods and leave the sugar to the whining kids and exhausted parents.
I want to encourage you that if you have removed sugar from your diet you can keep it up even on vacation!  It is well worth the effort.  Oh, and don't feel sorry for my kids who stayed home while their parents went to Disney World.  We took them last November and they get to go to Universal Studios later this year.  They're perfectly fine.
If you liked this you will also like, "9 Things you MUST Have at Disney" and my "Not-So-Scientific Experiment" about why I stopped eating sugar.
Thanks for stopping by!