This post contains affiliate links.
(updated June 2017)
Last November our family took a dream trip to Disneyworld.  It was just as magical as they say…except for the part where James and I had to keep up with 9 young people with varied levels of energy and interest.  He and I were like ships in the night….I knew he was in the vicinity but we rarely saw each other.
So we decided that since we never do anything for our anniversaries or take romantic trips, we would go back together…just the two of us.  And believe it or not, we have actually made plans and put down a deposit to go this spring!
I learned some things while we were there last time that will definitely help us have a great time this next trip and I thought I'd share some of my best tips with you!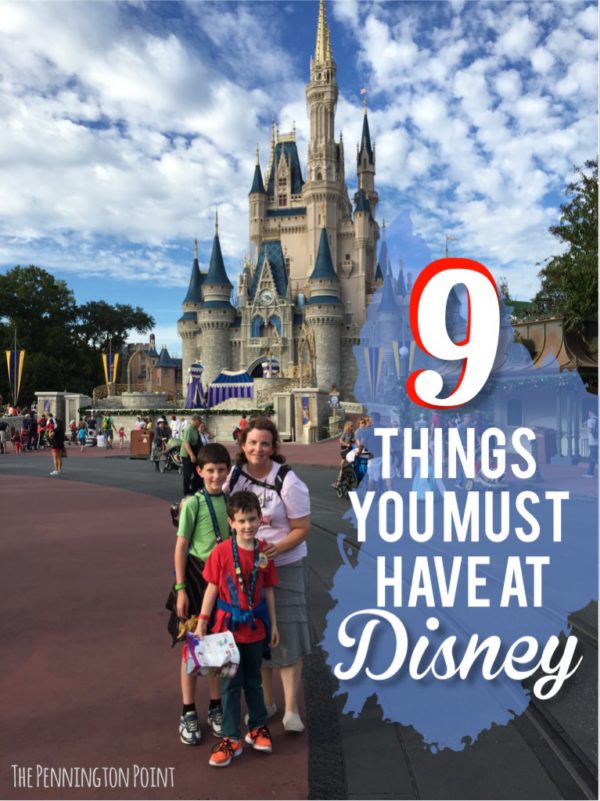 1. Cinch Bag – I need some stuff with me, but I need to keep the weight as light as possible.  So I use a simple cinch bag.  You can buy them at Disney or Sam Moon or most superstores, but I just grab them on Amazon.  They weight nothing and I like a pocket in mine just to make it easy to find the things I need most, like my lip balm and bottle of peppermint oil. THIS ONE is inexpensive and comes in all kinds of colors.
2. Pockets! – Since I only wear skirts and dresses, I don't often have pockets.  But I found some great tops that have big pockets and MAN did I use them!  It was so great to slip my sunglasses into my pocket when I needed to take them off and hold something for my kids.  I came home with pockets full of smashed pennies.
3. Comfy shoes – According to my apple watch, I walked an average of 17,000 steps a day.  We were on.the.move!  I need shoes that support my feet and these are my 2 favorite.  OTZ if I know it won't rain.  They're cute and comfortable and won't slip around.  If I think it will rain I wear my OOFOS, which are SO comfortable and come in many color choices!  Whatever shoes you are comfortable in…WEAR THEM!
4. Smart Phone – well, I never go anywhere without it anyway, and of course we took all of our photos with it, but I was doubly glad to have it with me because the app, My Disney Experience, was a lifesaver!  It kept up with our fast passes, dinner reservations, maps, wait times on rides, everything we needed!
5. Ziploc bags – speaking of phones, I kept a Ziploc Snack Bags
 in my pack to stick my phone in when we went on water rides.  I never worried about it getting wet!  And I carried a few extra that came in handy many times.  Someone didn't have their retainer case (although that probably won't happen when it's just James and I), leftover food from dinner, a kid wanted to keep something they found…over and over it was nifty to have a few small Ziplocs with me.
6. Dining Plan – no, seriously, I love the dining plan!  We had a fancy dinner reservation each day and ate places we would never have gotten into, much less been wiling to spend the money while we were there.  We got a second, quick meal each day which was amazing and then one snack, which I mostly ate frozen lemonade and plan to eat lots more of it when we go back.  It was so great for the kids because they had their meals on their Magic Bands and could just get food when they wanted without asking permission.  Brilliant Disney.  Brilliant.  This is only available if you are staying at a Disney resort, and sometimes I stay off site to save money.  But I still always try to eat at least once in a restaurant because the food is so good and the down time is a necessity.
7. No jewelry – Yes, I love my jewelry.  But this is not the place to wear it; I only wore my watch.  I didn't even wear a wedding ring, but wear my silicone ring that stays on and won't get caught on anything.  I have a bunch of different colors to match my outfits.  You really want to be as free of extras as possible, especially anything that would be upsetting to lose!  Sure, carry a Ziploc bag, but leave the earrings at home.
8. Free time – on our last trip it was go-go-go from sunup to sundown.  James and I, being old and all, plan to slow it down significantly.  Yes, we may miss a ride or two but the slower pace will undoubtedly help us enjoy it more.  You can't see it all anyway, believe me.  We tried.
9. Thieves Mints – I kept these in my pack and handed them out often, to whoever I was with (we were split up a lot).  It not only kept our breath fresh, but the Thieves helped keep our immune systems strong.
That's my simple list of how I plan to make my future trip to Disney as magical (and easy) as I possibly can!
Do you have any Disney tips to share?
By the way, all of our Disney arrangements were made by my friend Amy at Polka Dots & Wishes and she was incredible!  I didn't hesitate to ask her to plan our next trip for James and I….if you reach out to her to plan your trip, be sure to tell her I sent you!