I've been so excited for you to come for a visit.  Pull up a chair and stay a while!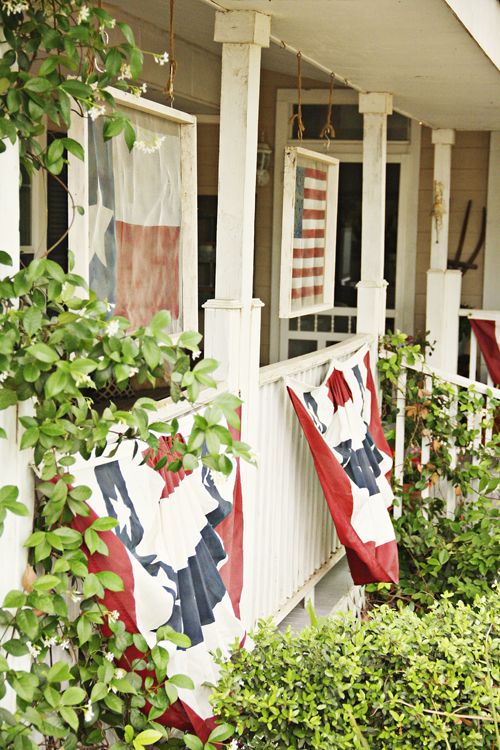 I painted a houndstooth rug to make guests feel welcome, and so we could easily wash the chicken messes off.  Chickens are soooo charming, until they poop on your porch.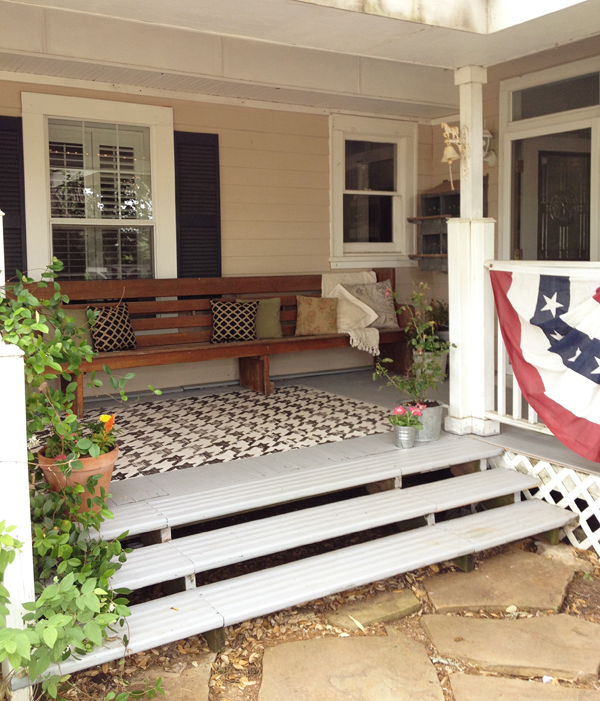 Come on through the screen door and sit a spell…..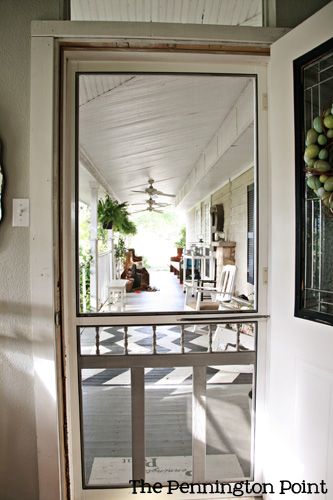 With 9 kids, we need a lot of seating and there's not much space.  It's not easy to do in this little bitty house, but there's always an extra seat for you!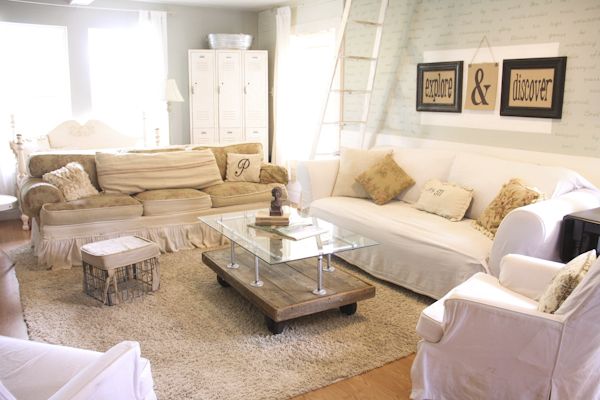 I made the coffee table with a furniture dolly I found at a flea market, some galvanized pipes and the glass top from my old coffee table!  It's happiness disguised as wood and metal.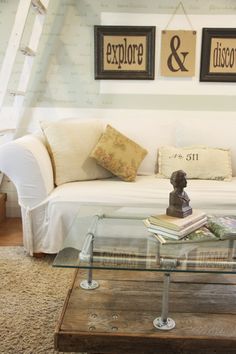 My painted piano is one of my favorite pieces in the house.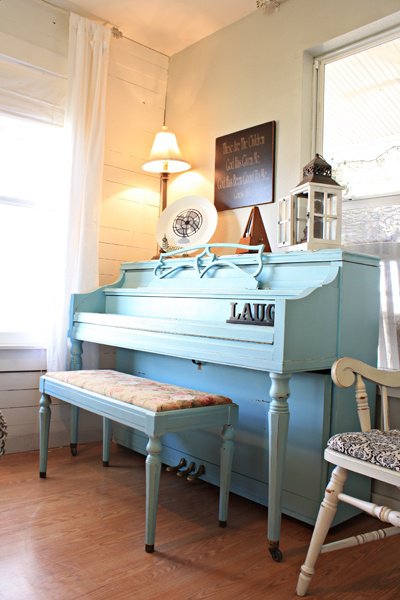 Next is my dining room/homeschool room, which is open to the living room through 2 wide doorways.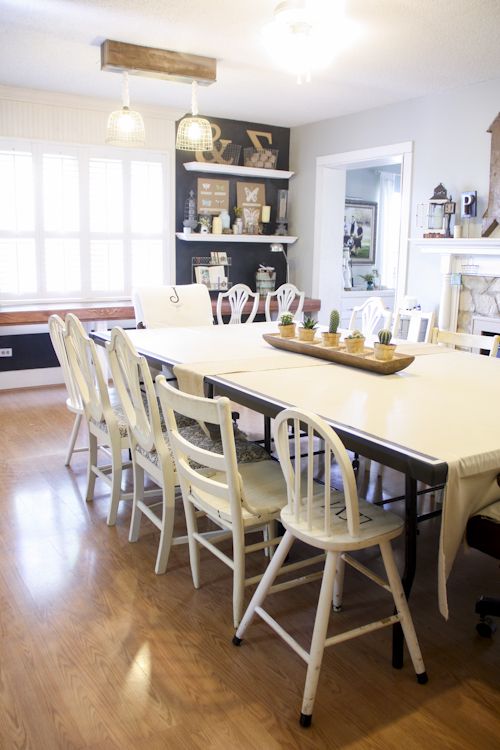 One of my girls found a speed limit sign at a resale shop and snatched it up for me.  She knows just what I like!  And I made the lights with wire baskets I got at the flea market. <3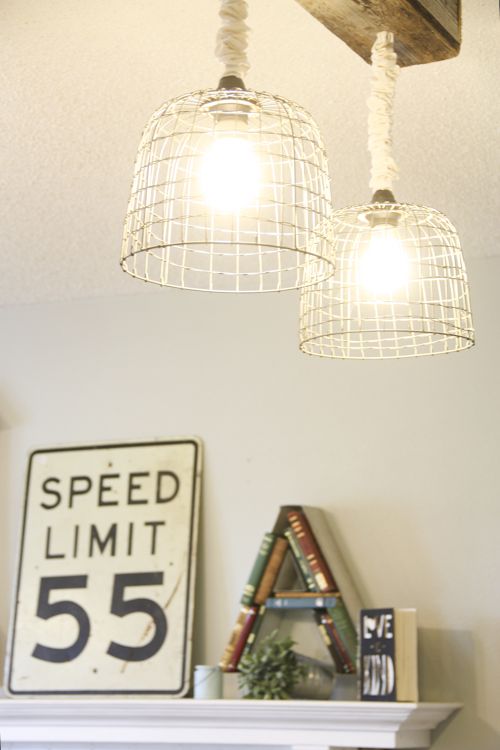 A turn to the left and you see my chalkboard wall.  We change it out seasonally. (And in case you're wondering….the table is a ping pong table with a vinyl tablecloth over it.)
The long desk is where my kids use their computers (that's what the little cabinet below holds) and do schoolwork.  It doubles as a buffet when we have parties or holiday meals.
The other side of the room is where we do school lessons.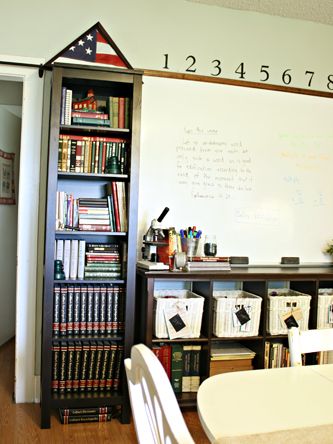 I keep all of our school supplies in these baskets.  It's great to have everything right there when we need it.
Through the kitchen and out the door, you get to the luxurious poolside lounge.  Last year's cushions didn't survive the Texas weather, so I had to change it all up.  I got new pillows at the hardware store and added some throw pillows to make it more cozy.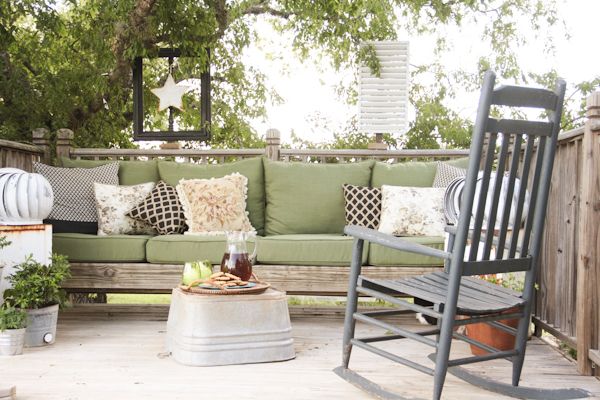 It's such a great place to hide from the kids….oh, um….I mean relax.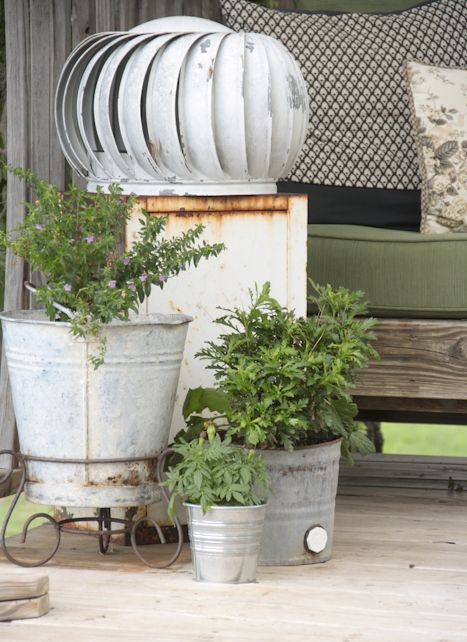 The last space I want to show you is my little office.  It used to be my son's Lego room, but as you saw, we moved all of that to their bedroom.  Then it was a place where the kids could study, but they didn't really use it much.  Now it's my office.  Things change quickly around here.  Don't blink or you'll miss something.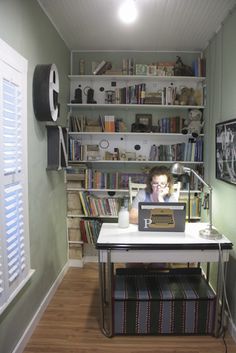 The chest under my desk-table is filled with special things for the boys to play with when they are hanging out in there with me. It's where I sit and try to think of something eloquent to say.
Well that's all folks!  Thanks for stopping by!