I shared this post a while ago about some of the ways we stay healthy.  Since then I have gotten a lot of questions about essential oils and how we use them.  It can be overwhelming to start with natural remedies you have never used, but that's one of the things I love about essential oils.  They are pretty simple.
If you have started buying the oils and you got a premium kit (and if you haven't you can sign up here and please keep it checked on "Wholesale" so you get the discount prices!)  a great start.  You will fall in love with them!
So I'm going to go through them here and share with you how we use each of these oils.  I promise, it's painless.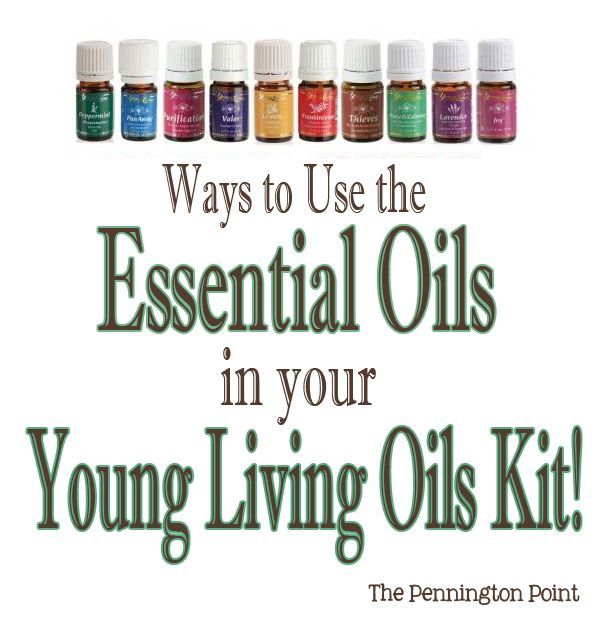 First of all, some of the oils are potent and should be diluted.  If I'm using them topically I dilute them in a carrier oil (I use Young Living V-6….it's the best I have tried and I have tied a LOT!).  This not only dilutes them, but helps your essential oils last longer.  If I am ingesting them or putting them in my mouth, I prefer to just dilute them in the water.  A teaspoon of water with a drop of your favorite essential oil is an easy way.
The new kit has 5 of the traditional, external use oils and 5 of the new Vitality oils intended for internal use.  When you order your kit I will send you a guide to help you know exactly how to use them.  Of course, you are free to play around with them any way you want.  🙂
1. Peppermint Vitality – this oil has so many uses I can't possibly name them all without writing a novel.  The main thing I use it for is to support my digestive system.  But it's also great for head "tension", fresh breath, travel nausea and a general pick-me-up.  My grown son uses this for studying (he graduated from law school!) and swears by it for helping him focus and stay awake.
I will rub some peppermint right over my stomach or lower belly when I feel like I need support.  I will also put some on my wrists if I need extra energy. I would also put some on the bottom of my feet if I were feeling a real desire to give digestion an extra kick.  It's great in the car, on a plane, when you have eaten a lot….it's just very helpful!
I also love to diffuse it in our homeschool area to help us all stay cheerful and focused.
When I was on a plane recently the man next to me smelled terrible!  So I got out my peppermint oil and rubbed some on my hands.  I could just keep my hands near my face when it got really bad and not smell him.  Whew!
2. Pan-Away – this oil is great for those of us who like to exercise.  It helps our joints stay strong and our muscles feel capable for another day.  I rub it on my knees and shoulders the most….since they seem to need the most support.  It's great for bumps and bruises. I have also used it on my boys' legs when they are growing.
When I walk extra far in the morning my legs will sometimes get sore, but I can't slow down with a houseful of kids.  So I rub Pan-Away on and it helps the soreness go away quickly.  It helps me avoid looking & feeling like a crippled little old lady every time I get up out of a chair. 
3. Purification – this oil is great for neutralizing odors.  If you burned dinner you can diffuse it and it really helps with the bad smell (trust me, I am an expert on burning dinner).  Or if you have a sickness in the house and it needs airing out, pet smells, etc.  Just diffuse it (the Premium Starter Kit comes with a diffuser).
I also love it for the summer months when we need extra care for our skin….I make a spray of it (mixed with peppermint) and give everyone a spritz just before going outside in the evening.
I carry Purification with me when I travel along with a small diffuser.  The first thing I do when I go into a hotel room is diffuse some to get the old smell out and a fresh start for the trip.
4. Copaiba Vitality – I use this oil to promote my body's natural response to injury or irritation.  It's a wonderful digestive aid also.  Really, it's an oil I travel with (you never know what will come up) and it has a gentle scent so it's easy to use.  I will use it when I am feeling sore from occasional muscle stress or joint tension.
5. Lemon Vitality – You probably already know many uses for lemon.  This is just a pure, concentrated version.  It takes 75 lemons to make a 15 ml bottle of oil.  That means it is power packed!  Add some to your water for a fresh, relaxing drink.  Or use it to freshen your breath or add cheer to your day.  It's great for digestion and fatigue also!
You can even clean with it!  Just add about 20 drops to a small spray bottle of water and wipe down your whole house with it….it smells amazing!
My friend Myra wrote a great post on ways to use this wonderful oil!
6. Frankincense – oh my heaven this oil is amazing!  And it's expensive, so getting it in your kit is a real blessing!  We've all heard of the wise men bringing it to Christ as a gift and now I see why! I dilute it mostly to help stretch it out as far as I can.  But you don't have to.  You can use it straight if you want.
It's a great mood balancer, helps sooth a fussy child and helps support almost every body system from skin to memory.  With so many teens in the house, we use it (along with lemon) to help with teenage needs.  And I use it myself to keep my skin looking fresh and it's known to be great for wrinkles.
I have been using it for my eyes.  It is a wonderful oil!
7.  Thieves Vitality – oh wonderful Thieves!  This was the first oil I ever tried years ago when we started using them.  A friend suggested it for me to use when I was pregnant with my youngest.  So I got a bottle and have loved it ever since.  I put it on the bottoms of everyone's feet during the winter and I diffuse it if there's even a sign of needing to support our respiratory system.  I dilute it in a spray bottle and clean the doorknobs with it.  I even put drops in the sheets sometimes.
Since this is a Vitality oil, you can add a few drops to some hot water in the winter to support your immune system.  Or put a drop on your thumb and rub it on the roof of your mouth when you are feeling a little stressed.
I carry a little bottle of spray Thieves with me and spray the handle of the shopping carts.  I even diffuse it in the car during the winter!
If you just want to try oils but not invest in a whole kit, start with Thieves, peppermint and lavender.
8. StressAway – need I say more?
When I get in the checkout line at Walmart, for example, I need to put on some StressAway.
9. Lavender– another well known oil that is worth its weight in GOLD!
It's another one that's been great for our skin.  I mix lavender and frankincense in V-6 (V-6 is also great for the skin!) and give it to my teens when they are concerned about their skin.
I keep some in the kitchen for when the stove gets too hot and we need to relax about it.
I also use it every night to help me sleep and it's wonderful for little ones.
Every night I put a squirt of unscented lotion in my hand, add a drop of lavender and rub it all over my hands and arms.  Oh the delight!

10. RC – This fabulous blend supports a healthy respiratory system.  Have it on hand during the months when you need the most support and it's great both on your body (diffused over your chest for example) or in the diffuser!
11. DiGize Vitality – Last but not least, this blend is just what you need to keep your digestive system functioning optimally.  I put a drop in water once a day and drink it.  It's not the tastiest, but you get used to it and the benefits are amazing.  Great for digestion either daily or when you have a slight tummy issue.  I always carry it with me when I travel!
If you have more questions about signing up with Young Living Oils you can read here.
These are just some of the basic ways our family uses oils.  There are many other uses for all of them, but this should help to get you started with your new kit.  And this is just the beginning.  There are a lot of other oils that I use regularly.  But I wanted you to have a keen grip on the kit that you will get when you sign up.
And you can always ask me questions and I will do my best to help you find an answer.
This is not meant to treat or diagnose.  I am simply a mom sharing what works for our family.  If you have any questions, consult your doctor.