I had pretty crooked teeth as a young girl, not any real issues, but mostly just cosmetic.  I was bothered by it as a young girl.  I have always been grateful that my parents got braces for me.  I do think it helped me in my life.
Our kids ALL have had orthodontic issues.  So far we've had 5 of them in braces.  Yes, in case you're wondering, it costs a LOT of money.  In fact James always says, "We never really thought kids were all that expensive, until we had to get them braces."
Our oldest daughter Grace, like me, only had small crowding issues with her teeth.  So we looked into alternative options and we found Invisalign.  They were less expensive and perfect for her needs.  We took her in to our dentist and he agreed.  Invisalign was the way to go.  She wore her Invisalign aligners for about a year and we were very happy with the results.  We will definitely consider using it again for any of the other kids that qualify for the treatment.
When I got the opportunity to work with Invisalign I was thrilled.  Since we have already used it and really liked the outcome, I knew it would be a good match for me.  If I wasn't currently paying for orthodontics for 4 kids I would even consider using it myself since my teeth have shifted significantly since those long ago braces.
If you're wondering about the difference between Invisalign and traditional braces, you should check out their How Invisalign Works page for all of the information. And you can look at their self-assessment page to see if Invisalign is right for you or your teen.
And here's something REALLY exciting.  They are giving away a….drum roll please….$1500 that you can put towards an Invisalign treatment.  Yes, you heard me right.  Do you need some smelling salts before I go on?
Go to this page where they have partnered with Mom It Forward to bless someone with a good start on using Invisalign for themselves or their teen.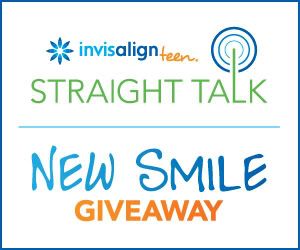 If you're in the San Antonio area and would like to learn more in person, email me and I will send you an invite to a really amazing luncheon this Thursday.  Not only will you get to meet the Invivalign team, but also they are bringing in some hot and hip photographers to teach us how to get the best photos of our amazing smiles!
Have you ever wondered about Invisalign and if it's right for you?
This is a compensated post, but my experiences are genuine and opinions are my own.