After a year of mulling it over, I finally did it.
I painted the piano.
It wasn't easy, fast or fun.  But I am so, SO thrilled with the results.
Sadly, my "before" pictures were accidentally deleted.  That's what I get for letting the kids borrow my camera before I got the pictures out of it.  I did find an image of the same piano online.
See?  It wasn't anything to write home about.  Plain, ugly brown and it didn't help the room, which I am trying to lighten and cheer up.
At least you can see a little bit of the corner the piano was in.
Try to imagine these two pictures put together…..
Oh dear, maybe not.  Well I can show you the work in progress….
OK, before you start to hyperventilate, here it is now…..Ta Da!
I'm swooning, someone please fan me before faint from the gorgeousness.
Or it could be the heat.  We had to leave the windows open for ventilation and it is pretty hot in here.  Or it could be my smokin' hot piano.  You decide.
I'm sure you're dying for a closer look……
I did some sanding along the edges.  Shaunna, do you approve?
I just love how it turned out.  No more big, ugly brown thing in the corner.
The platter was $5 from Home Goods.  I used my Cricut to add the "&".
My boys gave me the "P" from Anthropologie for Mother's Day.  I guess all those subtle hints, leaving out the catalog with the pages tagged and dragging the kids in there every time we're at the mall works!  Now how do I get them to clean their room?
I just love how it turned out.  Did I say that already?   Sorry, but it was such a big job that I think it deserves a second mention.
I've had so many questions about how I did it so I did a tutorial….here's what I did.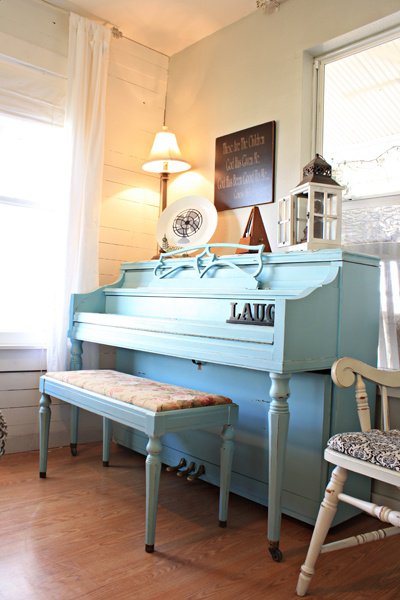 ~~~~~~~~~~~~~~~~~~~~~~~~~~~~~~~~~~~~~~~~~~~~~~~~~~
I will be linking this to these blog parties:
Nifty Thrifty Tuesdays @ Coastal Charm
Trash to Treasure Tuesday @ Reinvented
Toot Your Horn Tuesday @ A Silly Little Sparrow
Anti-Procrastination Tuesday@ New Nostalgia
Spotlight Yourself @ It's So Very Cheri
Transformation Thursday @ The Shabby Chic Cottage
Frugal Friday @ The Shabby Nest
Frugalicious Fridays @ Finding Fabulous
Furniture Feature Friday @ Miss Mustard Seed
Weekend Wrap Up Party @ Tater Tots and Jello
Saturday Night Special @ Funky Junk Interiors
Sundae Scoop @ i heart naptime