After a year of mulling it over, I finally did it.
I painted the piano.
It wasn't easy, fast or fun.  But I am so, SO thrilled with the results.
Sadly, my "before" pictures were accidentally deleted.  That's what I get for letting the kids borrow my camera before I got the pictures out of it.  Argh!  It wasn't anything to write home about.  Plain, ugly brown and it didn't help the room, which I am trying to lighten and cheer up.
As for the final results, I'm swooning.  Someone please fan me before faint from the gorgeousness.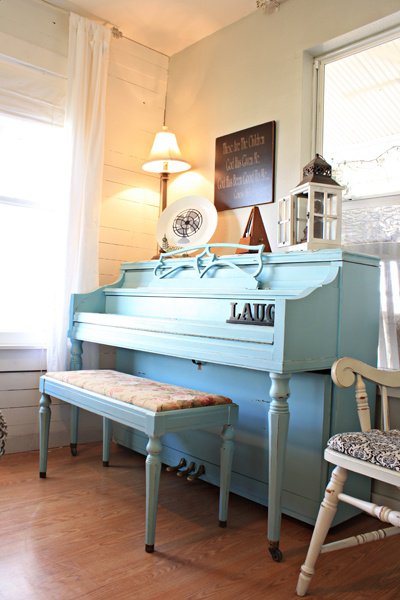 Or it could be the heat.  We had to leave the windows open for ventilation and it is pretty hot in here.  Or it could be my smokin' hot piano.  You decide.
I'm sure you're dying for a closer look……
I did some sanding along the edges.  Even though the white primer shows through I still love it!  No more big, ugly brown thing in the corner.
The platter was $5 from Home Goods.  I used my Cricut to add the fan.
I just love how it turned out.  Did I say that already?   Sorry, but it was such a big job that I think it deserves a second mention.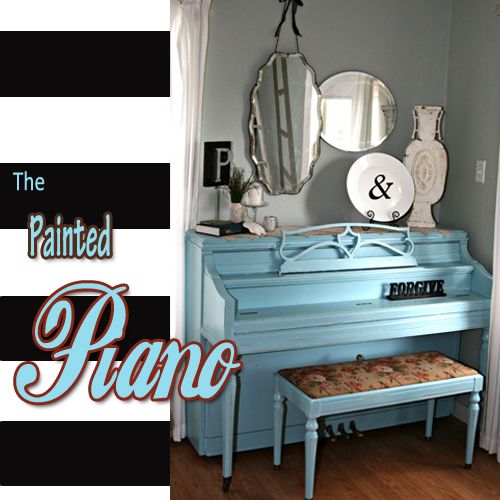 (It's been over 6 years since I painted the piano and it looks as good today as it did in the beginning.  I have never regretted doing it and I want to encourage you, if you've got a crazy idea like this, to go for it!)
I've had so many questions about how I did it so I did a tutorial….here's what I did.
Be sure to follow me on Facebook!